`We're ready to deliver'
New LVH maternity unit set to open next week
by JULIE-ANN SPENCE
| | |
| --- | --- |
| | |
| One of the new delivery rooms | The nurses station in the new Midwife Led Maternity Unit |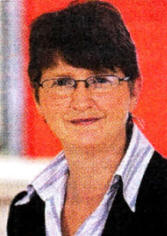 THE finishing touches are being put to the brand new Midwife Led Unit which will ensure the continuation of maternity services at the Lagan Valley Hospital.
The unit, which will cater for around 500 births a year, is ready to open next week and all of the staff are thrilled with the new facilities.
The superb new facilities are the result of a long, hard fought campaign to retain maternity services at the Lisburn hospital. The South Eastern Trust had originally planned to close the maternity unit altogether.
However, following a high profile campaign led by Lisburn Council and the Ulster Star which attracted unprecedented support across the community, the Health Minister agreed to the development of a midwife-led unit which will allow for low risk births at the hospital.
The new unit is being developed in the old labour ward at the Lagan Valley, which has been untouched for some thirty years.
Now it has been given new life with fantastic new facilities and the first birth in the new unit is expected next week.
There are four large 'labour, deliver and recovery' rooms, three of which have water birth facilities. Mothers will stay in the same room throughout the birth, will have a dedicated midwife and will stay in the unit for 6-12 hours before going home.
| | |
| --- | --- |
| | |
| One of the water birth facilities. | Frances Hogg Team Leader and Cathy Bell Team Midwife at Lagan Valley Hospital Maternity Unit. |
Lead Midwife Zoe Boreland explained there had been some disappointment when full consultant led maternity services had not been retained at the hospital, the the new unit had made up for that.
"The decision has been made and we are now ready to face the future," she continued. "The midwifery led unit is a proven model for providing a safe option for low risk women. We have researched it widely and have visited other units, particularly in Wales where they have been doing it for twelve years. Our unit is based on their model.
"We are very confident that this is a safe option as long as the mother is low risk. We have a very strict set of criteria used to assess women and if there is any sign there may a problem they will be transferred to the Ulster Hospital."
She continued: "There are huge benefits for the women because they are receiving a local service with midwives they will meet during their pregnancy. They will use a lovely, new unit, with full water birth facilities in a much more relaxed atmosphere.
"Mothers have been very, very supportive," she added.
The new maternity unit at the Lagan Valley Hospital is due to open on February 2, with the first birth expected before the end of next week.
julieann.spence@ulsterstarco.uk
Ulster Star
28/01/2011