`Dream' trip to challenging area of LA for Lynsey
by JULIE-ANN SPENCE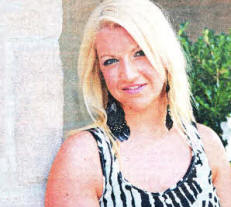 IN January Lynsey Agnew from Lisburn will become the first person from Northern Ireland to take part in an eight month vocational ministry training at the Dream Center in LA.
26-year-old Lynsey, whose parents Brian and Mary established the Kingdom Life City Church in Lisburn, is preparing for what will be a difficult, daunting but she hopes fulfilling experience when she travels to America next month to begin her training with The Movement LA.
The Movement LA was set up by Pastor Matthew Barnett as a ministry training and discipleship school and every year two classes of around 50 students join the school and spend eight months working in some of the most difficult communities in Los Angeles.
Lynsey will be staying at the Dream Center, a converted hospital which houses homeless families and includes a rehab clinic, sharing a room with two other women. She will be eating in the soup kitchen at the centre which feeds 3,000 people a day, and will have just one day off a week.
The Center is in downtown LA in a rough area," explained Lynsey. "They work on Skid Row with homeless people and when I go out there I will be involved with everything from building relationships in the community to working in the soup kitchen."
Lynsey will leave for LA on January 5 and is currently working hard to raise the $7,000 she will need for her bed and board.
"I am having a clothing collection," explained Lynsey. "People can leave old clothes into Kingdom Life City Church and Cafe@Inspirations.
"I am also organising a fundraising event at Distil next Thursday night (December 15) at 8pm. There will be live music and raffle prizes. Local businesses have been very generous and there are some great prizes up for grabs.
"I will also be having an auction," she continued. "The Ulster Rugby team have donated a fully signed shirt, which will be auctioned off on the night. Tickets are £5 and are available on the door."
During her eight month stay in LA, Lynsey will be m contact with the Star and will be keeping readers up to date about her work.
julieann.spence@ulsterstarco.uk
Ulster Star
09/12/2011