Mace staff plan fundraising night for Clic Sargent
by MARY MAGEE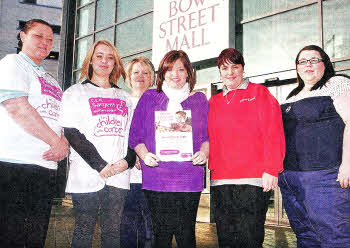 Jade Gaffey who is holding a Fundraising Night in Hagues Bar Lisburn in aid of CLIC Sargent with Emma Thompson, her mum Julie Thompson, Michelle Thompson, Patricia McCarthy and Jessica McCann. US4811-113A0
STAFF at the Mace shop in Bow Street Mall are helping to raise money for the Clic Sargent charity, after a former colleague was recently diagnosed with leukaemia.
Mother-of-one Emma Thompson (20), from Old Warren was diagnosed with the condition in October after she became unwell and noticed bruising around her body. It was first thought Emma, who has a ten month old girl Lucy, was suffering from post natal depression.
However when Emma, who was to begin a teaching degree at university in January, went to the City Hospital they diagnosed her with leukaemia. She is currently on her second bout of chemotherapy.
On hearing this, former work colleague Jade Gaffey wanted to do what she could do to help Emma and her young daughter.
So last Friday staff from the shop held a collection outside the store at Bow Street Mall and raised over £400 in just a few hours. They are also organising a fundraising night at Hagues Bar at Chapel Hill next Saturday, December 17 at 8pm where they hope to raise over £1,000.
Many have given generously to the raffle which will be held on the night. These include a donation from Ladbroke, a voucher from Peter Mark hairdressers for a cut and blow dry, vouchers from Nail and Beauty, a scarf from Menarys as well as a basket of Benefit and Clarin products and a Benefit bag, two £50 vouchers from the swing and roll for the Jungle, bottle of Famous Grouse and vodka, a food hamper from the Mace at Bow Street Mall, a meal for two voucher at the Ballymac and two £10 vouchers from Cafe Aurora, Christmas goodies from Poundland, Mak makeup. There will be a buffet and a DJ on the night as well as a pitch and toss event.
Emma's mother, who works in Card Land, has also placed a bucket in the shop for people to donate money. All proceeds for the event are to go to Clic Sargent.
"We told Emma what we were planning to do and everyone was only too glad to help," said Jade. "It was Emma who decided that she wanted the money to go to Clic Sargent. They have been very good to her. They told her what to expect through each stage of her treatment, organised child care for her daughter and explained what benefits she was entitled to.
"We hope that she will be well enough to come to the fundraising event at Hagues but we will just have to wait and see. We wish her well."
Ulster Star
09/12/2011