Man v Food as steak eating battle helps Marie Curie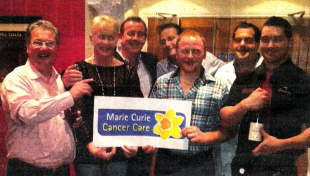 Staff and customers of the Tannery in Moira with the cheque for Marie Curie. The money was raised at the recent Northern Ireland steak eating championships.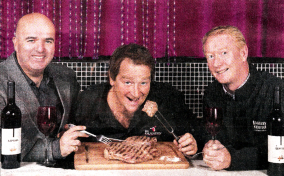 Derek Patterson from the Tannery with the sponsors of the Northern Ireland steak eating championships which were recently held in the Moira restaurant.
THE Tannery Steakhouse in Moira recently hosted the Northern Ireland steak eating championships and at the same time raised money for charity.
The competitors had to raise a minimum of £100 for Marie Curie Cancer Care in order to take their seat at the table. The winner John Hooke from Banbridge, took on the best the province had to offer and clinched the title with an outstanding performance on the night. He will be whisked away to Barcelona for an all expenses paid trip and dining in the best steakhouse m Europe courtesy of Septima.
Although this year's competition, which was sponsored by the Meat Merchant in Moira using Glenarm Shorthorn beef and Septima wines of Argentina, ran a series of qualifying heats and a final, next year promises to be an even more exciting event with a one shot at the title type of competition.
The record for the most steak eaten in 15 minutes with a 5 oz baked potato, currently stands at 51.3 ozs which is the equivalent 3 lbs 2 ozs of red meat. This was an outstanding performance by John Hooke 's colleague, William McAuley, these chaps really are the carnivore kings and are showing potential to go on to the global stage by entering next year's Chicago world championship representing their country.
John was also the competitor who raised the most money for Marie Curie Cancer Care which added to the grand total of £1590 raised throughout the competition, so all in all this looks to be another great annual calendar event for Northern Ireland.
Should you wish to put yourself forward for next years challenge, please contact the Tannery Steakhouse in Moira for competition details.
Ulster Star
30/12/2011