Independent report raises questions over speed of treatment
YOUNG MUM 'COULD STILL BE ALIVE'
by JENNY MONROE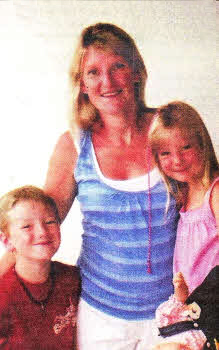 THE FAMILY of a Lisburn mother who died in the Lagan Valley Hospital while 12 weeks pregnant say they believe she would still be alive today if she had been treated more quickly.
At an inquest into the death of mum of two Mandy Wilson, Coroner Brian Sherrard highlighted the lack of urgency shown by staff in treating her when she went to A&E in agony in March 2007. She passed away hours later.
An independent report prepared by an expert from England for the Coroner said she may have been saved if a diagnosis - that she had suffered a hiatus hernia - had been made earlier.
And the family's emotional turmoil is even greater because they were not even made aware there could have been a problem with her treatment until January last year - nearly three years after her death.
Mandy, 35, who lived in Upper Ballinderry with her husband Brent and two children Tyler now 11 and Ellie, 8, had been feeling unwell on the night of March 11, 2007 while working as a fire control operator at the Fire and Rescue Service HQ in Seymour Street.
She went to the A&E at the Lagan Valley with severe back pain along with continuous vomiting and retching and was admitted just before 6am the next morning.
Despite having a history of hiatus hernia - she had major repair surgery in 2003 - and being pregnant, Mandy was treated as a category three patient, only the third most serious group.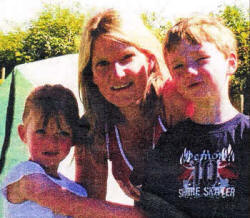 A junior level doctor attended to her and requested an X-ray. He told the inquest that when he looked at the results he noticed a large shadow on the left side of the chest which was "grossly abnormal" and said he had never seen anything like it before.
A second doctor took over her care and Mandy was given morphine. A duty Surgical Senior House Officer was contacted but did not arrive for almost two hours. Mandy's condition deteriorated and at 10.40am she collapsed in a state of cardiac arrest and was pronounced dead at 11.05am.
Dr Lawrence Jaffey, an expert from Royal Liverpool University Hospital, who prepared an independent report on Mrs. Wilson's death, said she may have been saved if a diagnosis had been made at 7.30am when the X-ray results came through. Mandy's husband Brent described the turmoil the family have gone through.
"We just wonder why it took so long for this to come to light?" he said. "But I am glad this has finally come out - people need to know the truth.'
Brent, and Mandy's father Jack Fell, said: "We feel the hospital's failings have only been brought to light because of the coroner's investigation.
We weren't informed that the hospital had carried out a post incident review until January 2010 when the report was posted out. It was the first time any of us heard what had happened exactly to Mandy. Reading the reports we could see something was amiss. Each day is difficult enough without getting a setback like that. It was just so confusing.
"We feel angry that the hospital didn't conduct its own review until after the Corner's initial findings that it would be in the public interest for an investigation."
Speaking about his only daughters death Jack said: "You leave your loved one in the care of doctors thinking they are in the best capable hands - you just don't think this will happen. It's hard to believe that she might still be here today if a diagnosis had have been made early on when the X-ray results came through.
"To learn that Mandy should have been treated as an emergency once the x-ray result arrived back and that immediate help should have been sought, is terrible. We were told it took two hours for the duty surgical Senior House Officer to arrive. Something went seriously wrong.
"I would say to others who have to bring family to hospital - don't be afraid to ask questions and find out what's happening."
Jack described his agony after reading the reports on his daughter's death. "This has devastated all the family. My wife Dorothy and I couldn't have asked for a better daughter. She brought so much joy to us and is greatly missed by us all."
Ulster Star
04/02/2011