Mary wins coveted Leadership Award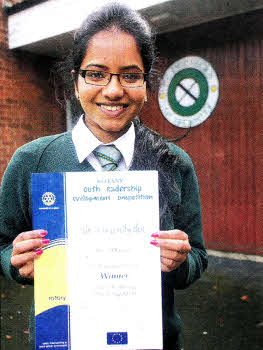 Mary Kurian, winner of the Lisburn Rotary Youth Leadership Development Competition. US4811-112A0
LOCAL girl Mary Kurian has won the Rotary Club OF Lisburn leadership development award.
Mary, a Lower Sixth pupil at St. Patrick's Academy, took the title after addressing three local Rotarians about the wide range of projects she has been involved in to improve life for people both here and abroad.
18-year-old Mary explained: "I heard about the competition through school and applied for it. I was picked from every school in Lisburn, so it was so nerve-wracking and intense.
She continued: "During my first interview I had to talk about what I would want to bring up in parliament, what issues there are that are of concern to us as young people."
One issue of concern to Mary at present is the topic of University fees, with the Lower Sixth pupil currently studying ICT, English Literature and Science.
The local girl was mentored for the competition by Lisburn Rotarians David Brown and Henry McNally. After being selected Mary then did a question and answer with David in front of the entire Rotary club - an event which brought her much praise and positive feedback.
Mary said she wanted to take advantage of what she had learned from the leadership part of the process.
"That's a good skill to have" she said. "I've met all the Rotarians and the speeches I have made are a good skill I've learned, so I'm happy with what I have done."
Ulster Star
02/12/2011