Lisburn Mayor's Christmas present to local charities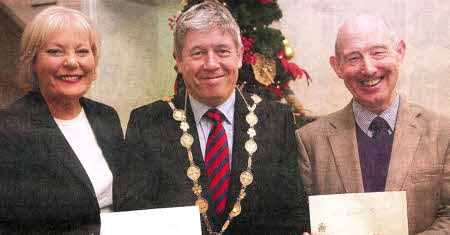 Receiving a cheque from the Mayor of Lisburn, Councillor Brian Heading are Mrs. Pamela Neill, The Salvation Army and Mr Joe Maguire, St Vincent de Paul
THE Mayor of Lisburn, Councillor Brian Heading presented a cheque in support of the 'Christmas Family Appeal', which is a joint venture between The Salvation Army and the Society of St Vincent de Paul.
Christmas is a very special time for many of us. From the frantic buying of presents, to preparing food and entertaining the month of December seems to pass in a flash. However, for some families Christmas can be a hard time of the year and they need support.
Councillor Heading, speaking about his donation, said: "Throughout the festive frenzy is can be easy to forget that others may not be as fortunate as us. It is the outstanding work of charities such as St Vincent de Paul and the Salvation Army which helps to make Christmas a special time for those less fortunate in the Lisburn area.
"At Christmas the ideals of sharing, thinking of others and providing kindness and support where it is needed has never been more important. I am very fortunate to be able to provide some financial assistance to help these two worthwhile local charities Lisburn local families during the Christmas period. I would also like to encourage the residents of Lisburn to help those within their communities who may not be as fortunate this Christmas for a number of reasons as it is the season for giving," he concluded.
The Family Appeal aims to make Christmas brighter for families facing severe financial hardship, by providing gifts to children at Christmas.
Ulster Star
30/12/2011