Concert in the park brings back sweet memories for war vet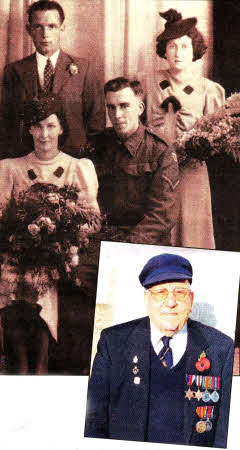 Henry Francis and Helena Cullen at their wedding on the 11th July 1942 at Derriaghy Parish Church and right Henry wearing his service medals on Remembrance Sunday 2010
by STACEY HEANEY
FOR many people the summer open air concerts in the refurbished bandstand at Wallace Park brought back happy memories.
But for one man the memories as Baillie's Mills Accordion Band finished off the season last Sunday were particularly sweet.
For it was at just such a concert in Wallace Park 71 years ago that 92-year-old war veteran Henry Francis met his future wife. The former Londoner was transferred to Northern Ireland that year after serving at Dunkirk and it was when he went to a band concert in the park that he met his wartime sweetheart Helena Cullen from Ballybog Road, Dunmurry.
Love flourished and after their wedding on the 11th July 1942 at Derriaghy Parish Church, they moved to Ballybog Road.
Henry had to return to England where he was involved in preparations for D-Day.
And on that memorable day in June 1944, when the Allies landed around 156,000 troops in Normandy, he was a driver of a landing craft called a DUKW, colloquially known as Duck, which was a six-wheel-drive amphibious truck.
For about one month after D-Day he continued landing supplies both day Iand night before being transferred to driving trucks and was involved in transporting supplies to the front line troops.
Henry is a keen photographer and when he was sent into the Dresden Prison Camp to help in the clear-up operation he took some photos.
He said he was nearly sick at the sights he saw and wasn't able to eat for days. He later destroyed the photos as he could not bear to look at them.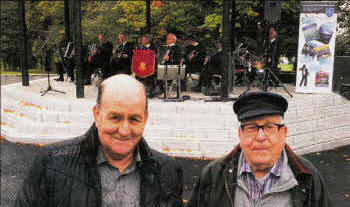 Henry Francis at the concert in Wallace Park with his son Jackie
After his company was demobbed in 1948, Henry and Helena set up home at Locksley Park, Finaghy, having two daughters and a son. Sadly Helena died some 20 years ago.
Henry was delighted to enjoy the recent open air concerts, which brought back a host of memories.
He said: "During the war they used to have lots of bands in the old bandstand. Army bands would play sometimes too, because they used to have Army bands here back then. I remember regularly on a Sunday we would parade through Lisburn on the Hillsborough Road to Christ Church with the band as well.
" Henry, who said he's a true 'Cockney', having been born within the sound of Bow Bells, joined his brothers and sisters in the Forces.
"There were six boys and two girls and we were all in the Forces, and we all came back," he said.
Henry was in Lisburn after Dunkirk. He explained: "I was here during the blitz and after the blitz we cleared the rubble from High Street and built the back paths around Wallace Park. Wallace Park was our vehicle park then. I also stayed in Fort Hill school and in the Temperance Institute opposite the old Robin's Nest and the train station, that was the first place I stayed when I came to Northern Ireland."
Henry said the old open air concerts Lisburn hosted were "very nice", having special memories for him as the place he met his wife.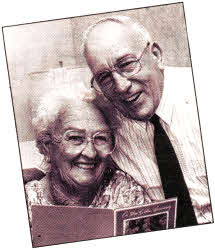 "We were married on the 11th of July," he laughed, "and the Church was decorated with orange Lilies." Following the war, Henry and Helena relocated to Finaghy, where he has lived for over 50 years.
"I helped to build the houses where I live," he explained. "I was a joiner. I also worked in the shipyard, building all the big ships, finishing up with the Canberra. I worked for 20 years at Harland and Wolff."
Speaking about Helena, Henry said: "Helena passed almost 20 years ago, but we spent 50 years together and celebrated our Golden Wedding Anniversary."
Henry has been back to France twice, going back just a couple of years ago on a coach trip with Norman McNarry, the brother-in-law of the late George Best.
"There are not many Dunkirk veterans left," Henry said. "But I was able to see old comrades and visited the cemeteries. I saw the American Cemetery, the German one and Canadian one, as well as ours. We went to Stansted by plane and then by coach all the way to France. I remember coming back from Dunkirk across the English Channel and this time I was under the Channel!
"One of the cities we saw was a place called Caen, a big city. I remember the whole place was bombed flat and now it's all built up and beautiful.
"I can remember coming back through Dunkirk and Hitler closing us off and we had to leave, but he didn't succeed in the end and I lived to tell the tale," he said.
Ulster Star
16/09/2011