Student teacher is Oyster Pearl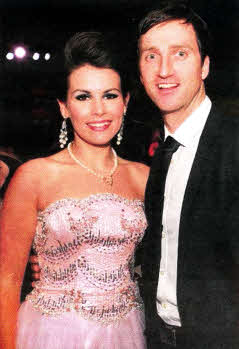 Rachelle Liggett with Apprentice star Jim Eastwood at the recent Oyster Festival Gala Ball.
A PRETTY student teacher has been named as the new Miss Hillsborough Oyster Pearl.
Rachelle Liggett, 21, from the Gilford Road, was chosen out of four finalists from across the country to take part in the grand final.
She said: "I took part in a fast moving fashion show showcasing collections from Candy Plum, Petticoat Lane Bridal, Una Rodden, Grainne Maher Millinery and Rio and Brazil with the latest hair trends from Shane Bennett and make-up provided by Claire McKinney Make-up and beauty. I was interviewed on stage by Citybeat's John Kearns half way through the evening and was shocked to be announced as the winner by the judges Tracey Hall from Style Academy and Katrina Dorran from Sugafix.com. I was honoured to be the face of this year's festival and attended the annual gala ball to be seated with Apprentice star Jim Eastwood, Pamela Ballentine, Siobhan McGarry and Kirsty McMurray from Cool fm. I was also introduced to the American Consulate on his visit and I was presented with my pearls at this event."
Rachelle added: "I was honoured to be invited to Hillsborough Castle for a private champagne lunch reception by the Secretary of State and his family on the day of the festival with comic host Nuala McKeever. I then helped with the judging of the World Oyster Eating Championship on stage and presented the prizes at the end of the event."
The Miss Hillsborough Oyster Pearl contest has always brought elegance and prestige to the festival and I am honoured to be an ambassador and face of the festival for a year. I have had some of the best experiences of my life as this year's pearl and will be the reigning Miss Oyster Pearl as the festival approaches it's 20th year in 2012. I will also be involved with this year's charity the RNLI lifeboats charity who were this year's beneficiary."
Rachelle's prizes include a contract with Style Academy modelling agency and a photoshoot with photographer Jasmin Bell.
Rachelle Liggett with Apprentice star Jim Eastwood at the recent Oyster Festival Gala Ball.
Ulster Star
09/09/2011