Miss Oyster Pearl sets sights on Miss Earth crown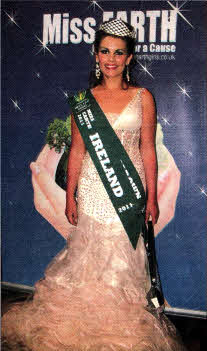 Miss Ireland Earth 2011 Rachelle Liggett.
THE new Miss Hillsborough Oyster Pearl is celebrating after also being crowned Miss Ireland Earth 2011.
And now 21-year-old Rachelle Liggett , who was chosen at the Miss UK and Ireland Earth grand final in England has her sights on an even bigger prize as she will go on to represent Ireland along with Miss Scotland, England and Wales at the world televised finals in Thailand for three weeks in November.
Rachelle, who would like to be a primary school teacher said: "I will be competing with over 110 girls participating from other countries making Miss Earth the second biggest beauty pageant in the world with the message of encouraging people to love and care for the planet. The prestigious international contest will also be televised around the globe."
The excited student continued: "Miss Earth is an ambassador to environmental protection campaigns worldwide and empowers contestants to focus on and promote environmental awareness for a clean, natural and healthy environment. During my year's reign I will be planting trees, raising funds for their charity projects, attending various environmental activities, promoting a healthy environment in my hometown and educating people on the three R's Reduce, Reuse and Recycle.
Rachelle was stunned when her name was announced as the winner. She said: "It was a total shock when I was announced to go forward to be an ambassador for Ireland at Miss Earth. There were so many lovely girls at the final so I feel very honoured and privileged to have been chosen by the judges to represent my country on the world stage."
The pretty beauty queen says she is very excited about the final as some of the prizes include a three weeks all expenses paid trip to Thailand in luxury 5 star accommodation worth over £40,000.
"I will also receive. £2,500 worth of eco swimsuits from Nikster Eco beachwear" said Rachelle. "I have received an Eve of St. Agnes natural skin care hamper and I will receive formal dresses of my choice from www.Promgirl.net and stardust boutique to wear at events at Thailand.
"My trophy was a £500 Swarovski crystal embellished handbag with Miss Ireland 2011 encrusted on both sides. I also had a photoshoot with the official Miss Earth photographer
Ulster Star
23/09/2011