MLA sells Lisburn at Milwaukee Irish Fest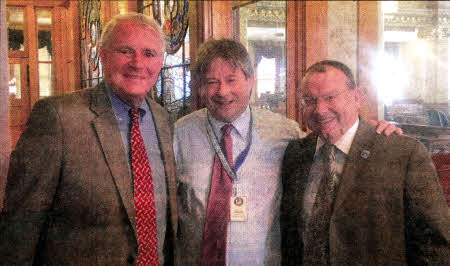 Lagan Valley MLA Basil McCrea with Mayor Tom Barrett and Economic Development Commissioner Rocky Marcoux
LAGAN Valley MLA Basil McCrea has just returned from speaking at Irish Fest in Milwaukee, where he championed Lisburn to the American people.
Milwaukee Irish Fest has been running for 31 years and it is estimated 120,000 people will have visited the festival this year.
"Lisburn is a beautiful, historical city with much to offer the American market," said Mr. McCrea. "Not only do we have a strong cultural history, but we are modern with an excellent retail industry.
"There is an excellent market for tourism for us to tap into at this festival," he continued. "There is a huge opportunity for investment, and this investment will benefit our local businesses, hotels and ultimately the people of Lisburn."
Mr. McCrea also spoke of the cultural ties Lisburn shares with America, including the linen industry and historical figure Alexander Turney Stewart, both of which were key parts of Mr. McCrea's display and banner.
"Lisburn has numerous cultural ties with the United States that many don't know about. We were a key area for worldwide linen production and Lisburn is also the birthplace of Alexander Turney Stewart, once the third richest man in America and inventor of the department store," he concluded.
Ulster Star
26/08/2011