`A monarch of the land' - From Lisburn to ruling the United States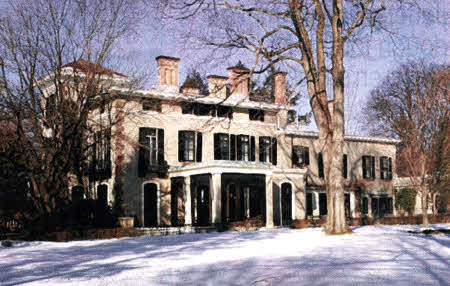 Sam Sloan's home at 61 Lisburne Lane, New York, which overlooks West Point Military College.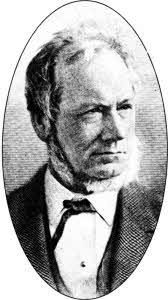 THE story of a Lisburn man who went on to become one of 'the monarchs of the land...the actual rulers of the United States' has been recalled in the latest edition of The Ulster Scot.
Well known historian and author Alister McReynolds tells how Samuel Sloan (pictured), who was born on December 25th 1817 in the town went on to achieve fortune and greatness in America.
Samuel was the son of William and Elizabeth Simpson Sloan (originally spelled Sloane) and when Sam was just an infant the family emigrated to the United States. Actually, they landed initially in Quebec as their ship was wrecked in the St. Lawrence in 1821 and the family lost most of their household goods and stock.
Nothing daunted, the family made their way to New York where William got a job as a clerk in a linen store owned by John Suffern, an Ulsterman of Huguenot extraction from Nutts Corner. The town of Suffern in Rockland County New York was founded by him with the name originally being new Antrim.
Sam was the second child born to William and Elizabeth in Lisburn as a sister May had died aged just two weeks old.
When he was 14 he was forced to withdraw from Columbia College Preparatory School and got work as a junior clerk in an importing house on Cedar Street in New York. He remained there for 25 years and eventually became head of the firm having, 'established a reputation for promptness, faithfulness, energy and honesty'
On April 8th 1844 Sam married Margaret Elmendorf and the couple set up home in Brooklyn. He was chosen as Supervisor of Kings County and President of Long Island College Hospital in 1852. In 1857 he retired from the importing business and was elected to NY Senate as a Democrat
but only remained in that position for two years.
But as Mr McReynolds writes, Sam Sloan was not to make his illustrious name in importing, moderately successful though his career there had been. For the next 40 years he engaged in the highly lucrative business of transportation.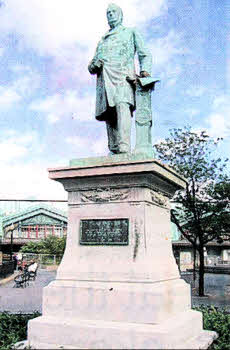 The Sam Sloan statue in Hoboken, New Jersey.
As early as 1855 Sam had been a Director of the Hudson River Railroad and was then elected as President and guided the railroad for nine years including the Civil War years during which the value of the Company's shares rose from $17 to $140.
He resigned from the Hudson Railroad in 1864 and was elected author director and then President (1867) of the Delaware, Lackawanna and Western Railroad where he remained for 32 years. That came to be known as one of the so-called, 'coal roads' into Pennsylvania anthracite territory.
During the reconstruction years after the Civil War Sloan expanded into he North and West towards Buffalo and by that time had extended into general freight handling. He spent $1,250,000 on upgrading all his trains to run on anthracite.
Gustavus Myers in 'History of the Great American Fortunes', described Sam Sloan as one of 'the monarchs of the land...the actual rulers of the United States, the men who had the power in the final say of what should be done.'
Sloan came to be associated with some powerful figures of the time, including JP Morgan and Commodore Vanderbilt. His name is engraved on the former Citibank premises of which he was a founder at 55 Wall Street.
His statue stands just a block away from the former Lackawanna. Railroad Station in Hoboken New Jersey and the town of Sloan in Erie County, New York State was named for him, as was a new locomotive on the Syracuse and Burlington railroad.
But there is a further twist to the tale as Mr McReynolds tells. For when he was 80 Sam Sloan returned to Lisburn and was pleased to go to the Presbyterian Meeting House and see there the Baptismal Font or as the New York Times of March 6th 1898 put it, 'and enjoyed the satisfaction of inspecting the baptismal font at which his sponsors had presented him nearly four score years before'.
As a lifelong Presbyterian Sam Sloan had put a stop to the running of the railways on Sundays. He said: I would not work myself on a Sunday, and I do not see why the men under me should be made to work".
Sam Sloan died aged 90 in 1907 and was buried at St. Philip's Church, Garrison, New York. His home, Lisburne Grange still stands at 61 Lisburne Lane, New York, on the Hudson River with sweeping views of West Point Military College. It was last sold in 2010 for $3.744.325.
Ulster Star
30/12/2011