Former Friends' pupil leads Mongol rally team to success
by JENNY MONROE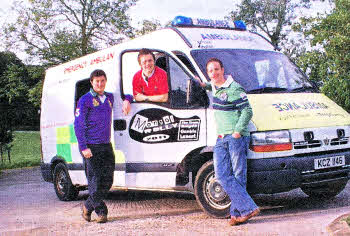 From left • Simon Lamont, Derek Gamble and Daryl Smyth.
A FORMER Friends' School pupil has led a team of three intrepid explorers and charity fundraisers on the Mongol Rally.
Derek Gamble, who is now a Physics Teacher at Dromore High School, and his team members Simon Lamont and Daryl Smith started their 'cannonball run' in Donaghcloney and travelled across mountains, deserts and a 10,000 mile trek to Mongolia.
Not only did they raise over £6,000 for the Northern Ireland Cancer Fund for Children, but the team also delivered a working ambulance from The Ulster Hospital to Mongolia for use in their hospitals.
It wasn't all smooth driving for the team as they had to endure a lot of tricky situations along the way, ranging from fines by customs officials in France to mechanical problems in Czech Republic, hospital stays in Hungary, hitchhikers in Lithuania and even a spot of bribery in Bosnia.
Team leader Derek said: "I honestly don't know how we made it back in one piece. I guess we relied on our friendship and the sheer generosity and kindness of people across the world. It was a phenomenal experience and I am delighted we raised such an incredible amount of money for our chosen charity".
Lorna Watson, Regional Fundraiser for NICFC, thanked the team for their generosity, "Their support will give 120 children living with cancer the opportunity to spend a weekend at Narnia, our log cabin, helping them to rebuild their confidence and meet other children in the same situation" she said.
The team managed to raise their £6,000 total with the support and sponsorship of Doran Consulting Ltd, one of the largest independent consulting engineering companies in Northern Ireland. Doran Consulting's Managing Director, David Walker, gave the company's full support to the team.
Ulster Star
16/12/2011