MY HERO BROTHER
Quick thinking Kris renders life saving first aid to older brother
by JENNY MONROE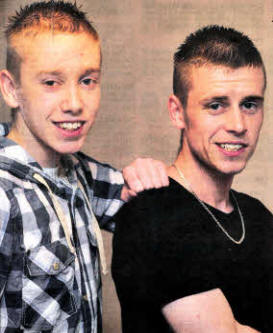 Brotherly love - guardian angel Kris Graham, left, saved the life of his brother, Lance, by immediately providing emergency first aid last week after Lance was knocked down close to their home. US4311-404PM Pic by Paul Murphy
A LISBURN teenager has hailed his younger brother as a real life hero after helping to save his life.
Lance Graham, 19, was struck by a car last week as he was waiting at traffic lights on the Prince William Road.
His brother Kris, 16, who was standing with him, immediately used his first aid skills, which he learnt with the RAF Cadets, to move Lance into the recovery position. Paramedics who arrived at the scene praised Kris for his swift action as Lance had bitten his cheek and blood pouring from his mouth could have choked him to death. The boys who live in the Magheralave Road area were on their way to visit their brother when the accident occurred. Lance, who was struck on the side, fell to the ground and received facial injuries and bruising to his shoulder, arm, hip and leg.
The boys' mother Alexandra is thankful her sons are okay. She said: "Lance has a lot of tissue damage and he could have a fractured arm - it has to be examined again. He really is lucky to be alive. I am just so glad that Kris was able to put his first aid skills to such good use. It really does show you how important it is for people to learn first aid."
She continued: "I would like to take this opportunity to thank everyone who attended the scene and offered their help as well as thanking my friends Alana and Kim who rushed me to the scene of the accident. I am so relieved Lance is okay and am extremely proud of Kris."
Kris who hopes to join the RAF said: "I am glad I was able to help and I'm just happy my brother is not seriously injured."
Lance described his brother as a "hero". He said: "I am still in shock to be honest, but I'm so proud of Kris and just happy to be alive."
Ulster Star
21/10/2011