New breast check guide available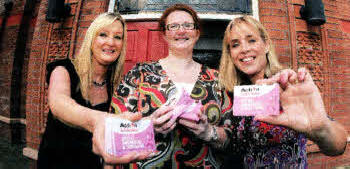 TV presenter Tina Campbell launches Action Cancer's new, compact breast check guide with Joanna Currie, Consultant Radiographer for Action Cancer (centre) and Fiona McQuillan from BCAM campaign partner, Gordons Chemists
WOMEN in Lisburn are being encouraged to pick up Action Cancer's new, compact breast check guide in response to a survey that revealed one in two women in Northern Ireland do not feel confident when checking their breasts.
In advance of the charity's Breast Cancer Awareness Month (BCAM) campaign which runs throughout October, Action Cancer carried out a survey into women's awareness, knowledge and attitude towards breast cancer. The 800 responses revealed that although 4 out of 5 women are worried about getting breast cancer, nearly 7 in every l0 women checked their breasts less than the recommended once a month.
Action Cancer's Consultant Radiographer Joanna Currie said:
"Our new, compact breast check guide presents step by step information on how to be breast aware and provides details of Action Cancer's screening programme in a clear and attractive way.
The same size as a credit card, the guide is designed to fit neatly in a woman's purse so they can refer to it time and time again.
All women should be aware of the signs and symptoms of breast cancer and visit their GP immediately if they are concerned.
"We would recommend that women from the age of 40 have regular mammograms in order to detect breast cancer at an earlier stage before symptoms are present.
"Over the month of October we're encouraging women to pick up a breast check guide and if aged 40 - 49 or over 70, to avail of our breast screening service as evidence shows early detection saves lives."
Campaign partner Gordons Chemists will provide the new breast check guides and breast screening request forms for Action Cancer in store over the month of October.
Anyone interested in obtaining a breast screening appointment should contact Action Cancer on 028 9080 3344, visit www. actioncancer.org or call in to your local Gordons Chemist and fill out a breast screening request form.
TV presenter Tina Campbell launches Action Cancer's new, compact breast check guide with Joanna Currie, Consultant Radiographer for Action Cancer (centre) and Fiona McQuillan from BCAM campaign partner, Gordons Chemists
Ulster Star
07/10/2011