Noel is the new captain at Lisburn
GOLF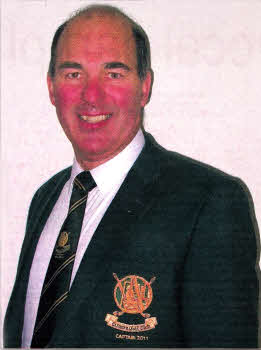 Lisburn Golf Club's new Captain, Noel Robinson
Noel Robinson was, elected Captain of Lisburn Golf Club at the Annual General Meeting held in the clubhouse last Monday night.
The new captain has been a member of Lisburn for over 40 years and played at the original course at Longstone Street. He attended Ballymacash Primary School when one of Lisburn's best golfers, Bill Polly, was his teacher. He would often tell his pupils about the 'Royal and Ancient' game, and it was no surprise that he proposed Noel for membership a few years later. During the summer holidays, Noel often cycled one mile from his home on the Moira Road to the course with the golf clubs over his shoulder.
Noel represented the club on several successful teams. In 1979 he was a member of the Holt Shield team that reached the final against Downpatrick and played Ulster Cup golf for many years. In 1990 his team reached the final only to go down to Ballymena, but he won a winners' medal in 2007 in the final against Edenmore. Last year he won Lisburn's premier competition, the Barbour Cup, for the second time.
He was elected to the Council for the first time in 1995 and served as Convenor of the Centenary Committee and more recently the Competitions Committee.
Noel is married to Kathy and they have three children: Mark, Ian and Rachel. Kathy is no stranger to golf as her great grandfather, Dr. R. McCandless, was president from 1954 to 1962 and her grandmother, Mrs. Margaret Kerr, was lady captain in 1960.
Mark, a regular member of Lisnagarvey First XI hockey team, has represented Ulster and Ireland at schoolboy level. Ian is an active playing member of Lisburn Golf Club.
The outgoing Captain, Mark Jamieson, thanked the members and staff for their support during the year and wished the new Captain, an enjoyable and successful year.
| | |
| --- | --- |
| | |
| Lisburn's new Captain with Honorary Treasurer Ernie Taylor, Vice Captain Roy Stewart and Honorary Secretary Maurice Henderson. | New Council members Peter Cairns, John Boyd and Stanley Lamont. |
Other appointments: Vice Captain, Roy Stewart; Hon Secretary, Maurice Henderson; Hon Treasurer , Ernie Taylor and new council members: John Boyd, Peter Cairns and Stanley Lamont. Alan McCarthy was reelected.
Scoring was difficult when the Winter League was played over frozen ground last Saturday. The fog presented an additional problem as competitors had difficulty seeing the flags on the temporary greens. One player had the courage to play a shot off the ice covering the lake beside the 11th green. After hitting the ball he jumped off the ice just as it was starting to crack. Ken Haslem and Ian Robinson were the top scorers with 22 points each.
Results:
Section 1: 1st. Ken Haslem (9) 22 points, 2nd Noel Robinson (12) 18 points and 3rd Trevor Hewitt (5) 17 points on count back.
Section 2 1st. David Gregg (14) 19 points, 2nd Jim Cunningham (14) 18 points and 3rd Greg Ferris (13) 18 points on count back.
Section 3 1st. Ricky Neill (18) 17 points, 2nd Hubert Shellard (19) 16 points and 3rd Derek McAfee (17) 16 points on count back .
Section 4 1st. Ian Robinson (28) 22 points, 2nd Maurice Pinker (23) J8 points and 3rd Wesley Haslett (27) 18 points on count back.
Ulster Star
28/01/2011