Family's `nightmare' Christmas without any water
by STACEY HEANEY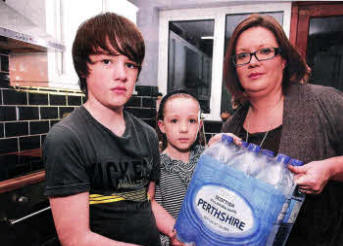 Melanie Menary and children Peter and Lauren, were without mains water for eight days and had to rely on bottled supplies over the Christmas period. US0111-518cd Picture: Cliff Donaldson
A LISBURN woman has described the "absolute hell" faced by her family as they spent eight days without water over Christmas.
Melanie Menary's family and her next door neighbours went without water from Christmas Eve until it eventually returned on New Year's Day, causing a Christmas nightmare for the local families.
Melanie, her husband Stuart and children Peter and Lauren, aged 12 and 6, and their neighbours in the Limetree Avenue area of the city, were forced to live without water for the second time in 2010.
The families spent a total of 13 days last year with no water, having lost their connection due to frozen pipes for five days last January.
Melanie said it was a "nightmare" as they tried to give their children a nice Christmas despite the situation.
"We were having to buy water, Dettol wipes, anything to keep clean. I have two children and my next door neighbour has a nine-year-old. We still had Christmas, but trying to eat your Christmas dinner on paper plates isn't easy."
Melanie continued: "I was using gallons of water to cook the Christmas dinner. We couldn't flush the toilets, we had to brush our teeth with a bottle of water and we couldn't bath; we had to go to friends and family to wash.
"We were supposed to have people over on Boxing Day and we had to cancel; our Christmas plans were ruined."
Melanie and her husband spent four hours each day filling the tank in their attic with water from another neighbour's home.
"We were able to use our neighbour's tap, but the tank didn't last all day," said Melanie.
"We had no washing machine, no dishwasher, things you rely on every day. We had to use paper plates and plastic knives, forks and cups."
Melanie said she spent two days over the Christmas holidays waiting for workers from NI Water to come out to look at the problem, but no-one arrived.
"They were meant to come out on the 27th but they didn't turn up, they didn't even contact us.
They then said they'd come out on the 30th but didn't and on the 1st the water came back on itself."
Having spent so long last year without water during periods of poor weather, Melanie is now worried each time conditions take a turn for the worse.
"We had problems last January when we were off for five days with the heavy frost. NI Water worked on it and said it was the pipes freezing; we were told the pipes are not dug down deep enough to protect them from frosty conditions. It was snowing two nights ago and I immediately went into panic mode, I now constantly have 20 litres of water in the house at all times.
"Christmas is stressful enough, but having no water for eight days is a nightmare. It didn't ruin Christmas for the children, but it ruined our Christmas. I still have faith in the water board but we need it looked at; I can't face every winter panicking we'll have no water."
As well as being stressful, it was also an expensive time for Melanie and her family.
"It cost about £100 or so for the water and the silly things like plastic cups and plates; it was an extra expense we didn't need at Christmas.
"At one stage we were just hysterical laughing because we couldn't cope any other way - it was absolute hell," Melanie concluded.
An NI Water spokesperson said: ""NI Water can understand the distress caused to any customer when they have a period of no water at their property. This particular customer has had experience of frozen pipes at the communication pipe they share with their neighbours. If these pipes freeze, there is no action that can be taken until the pipe naturally thaws. "NI Water would re-iterate its appeal to customers to check their premises for any damage to pipes and repair' these as soon as possible as there remains a problem with leakage on' the customer side, this is continuing to contribute to a high level of demand on supply.
"You are our eyes and ears — if you spot a leak or a burst pipe, don't assume we know about it, we depend on the public to alert us to leaks. Please call Waterline on 08457 440088 so we can fix the burst as soon as possible."
stacey.heaney@ulsterstar.co.uk
Ulster Star
07/01/2011