Ormo seeks assistance from Lisburn people to remember its past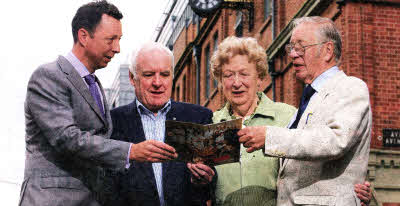 Paul Simpson, General Manager of Ormo, outside the old bakery on the Ormeau Road with retired Ormo employees George Noble, Betty McLaverty and Bob Armitage.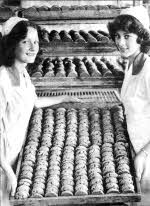 4 October 1978. Sisters Lorraine and June Nugent with a tray of coffee cakes, one of Ormo's many lines.
THE Ormo bakery is seeking assistance from the people of Lisburn to reawaken forgotten memories of Northern Ireland's favourite bakery ahead of 'a major marketing campaign.
Perhaps the smell of freshly baked bread and cake delivered to your door by the legions of Ormo bread servers in their electric vehicles holds specially memories of your childhood?
Or maybe you worked in the famous Ormeau Road bakery or even in the Ormo Café on Bow Street?
The iconic bakery, which celebrated 135 years of baking last year, is searching for your memories, photographs and memorabilia of Ormo throughout the years.
"Due to a change in ownership and the re-location of the bakery from the Ormeau Road to Apollo Road much of the company's tangible history has been lost," said Paul Simpson, General Manager of Ormo.
However, there still remains much of the old marketing literature, staff photographs and work records that will be displayed online via Ormo's own Facebook and Twitter pages as Paul explained: "We want to hear your memories of Ormo.
To do this we have enlisted the help of 'Ormo Jack', a fictional online bread server.
"Ormo Jack is waiting for you on Facebook and Twitter he holds the Ormo brand very close to his heart, as do so many members of the Northern Ireland public.
"He will be uploading exciting, interesting facts about life as an Ormo employee back in the day when bread was delivered to our doors, as well as uploading old photographs of his colleagues that worked in the Ormeau Road bakery.
"We hope these will encourage you to leave your own thoughts. No matter what the memory we would greatly value your assistance."
Present at the launch were former members of staff who shared their own experiences of working in the famous bakery. Betty McLaverty worked for Ormo as a Personnel Officer, from 1973 until she retired in 1992.
I lived in Stranmillis and I still talk about how lovely it was on cold frosty mornings to be met with the smell of fresh baked bread as we walked across the bridge to work."
Bob Armitage from Ballynahinch was employed as Chief Engineer at Ormo from 1973 until he retired in 1993. "Working for Ormo was tremendous. It was like coming into a big, happy family. Everyone was treated equally; even the Wilson family, who owned the bakery at the time, would join the staff in the canteen."
George Noble from the Ormeau Road was employed by the bakery as a Shop Steward Convenor for almost 30 years. He retired in 1994.
'All the employees were long service and very proud of their work. My favourite products were the fruit malt loaf and the milk scones because my wife, also employed by Ormo, worked on the hot plate making them!"
If you have a particular memory of Ormo whether it be the bakery, its breads, the cakes or the shops please send your photos and memories to jack@ormojack.com or upload them to Ormo Jack's Facebook and Twitter (@OrmoJack) pages.
Paul Simpson, General Manager of Ormo, outside the old bakery on the Ormeau Road with retired Ormo employees George Noble, Betty McLaverty and Bob Armitage.
Ulster Star
21/10/2011