'Outta This World' excitement as young carer Sarah meets JLS
by STACEY HEANEY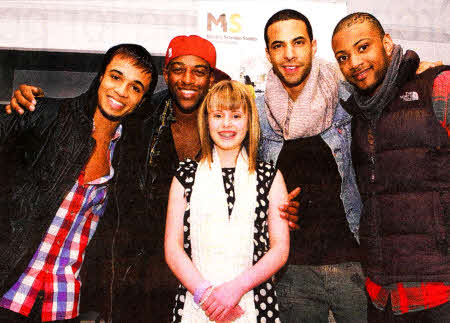 Lisburn girl Sarah Crawford met JLS stars Aston, Oritsé, Marvln and JB at the Odyssey Arena recently. Like pop star Oritsé, Sarah cares for a parent affected by Multiple Sclerosis.
THERE was 'Outta This World' excitement for 16-year-old carer Sarah Crawford recently when she was invited backstage to meet chart-topping band, JLS.
Lisburn girl Sarah, who helps look after her father who was diagnosed with multiple sclerosis (MS) ten years ago, paid a visit to the Odyssey Arena, when the band visited Belfast earlier this month as part of their 'Outta This World' arena tour.
To reward her for all her care and hard fundraising work, the MS Society NI arranged for Sarah and two other young carers to meet the band - Aston Merrygold, Oritsé Williams, Marvin Humes and Jonathan 'JB' Gill, during their first arena tour.
Sarah, a pupil at Hunterhouse College, said the night was a brilliant experience. She particularly enjoyed meeting band member Oritsé Williams, who has famously pledged his support for the MS Society having been a young carer himself. Oritse cares for his mother Sonia, who was diagnosed with MS when he was 12 years old.
The singer's understanding of Sarah's commitments was reassuring to her: "It felt like a relief, because I never thought someone famous like Oritsé would have gone through the same thing with his mum as I have with my dad."
In 2010, Oritsé was awarded the MS Inspiration Award and he is a dedicated supporter of the MS Society's work to support people affected by MS and their families.
Oritsé said: "I know from my own personal experience that young carers play a vital role in supporting those affected by MS and that this can be very tough. It is a privilege for me to meet these wonderful young carers and let them know that they play a valued role in family life and that the MS Young Carer's Group can support them too."
Sarah's dad is one of the 4,000 MS sufferers in Northern Ireland. Her advice to other young carers is simply to stay strong, and she commended the MS Society NI for providing her and other young carers with invaluable help and support.
The MS society receives no government funding and relies on community help and dedicated fundraisers to continue providing support and services to people affected by the central nervous system condition.
stacey.heaney@ulsterstar.co.uk
Ulster Star
21/01/2011