Crumlin boy hoping for life saving bone marrow transplant
by MARY MAGEE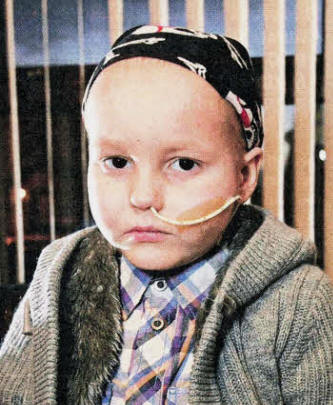 Little Patrick Campbell - waiting for an operation.
A BRAVE Crumlin boy is waiting for a life saving bone marrow transplant m Bristol which could take place within weeks.
Patrick Campbell, from Main Street, is batting a rare form of non-Hodgkin's lymphoma. He flew to Bristol last week to establish whether a life saving bone marrow operation can go ahead.
If Patrick responds well to intense chemotherapy, it is expected the operation could take place within weeks. The donor, the family have been told, is a young girl from Germany.
Sitting in his hospital bed in Bristol his mother Mairead said they are just waiting for their prayers to be answered.
"He is putting up such a fight," Mairead said. "I have asked him what he wants for Christmas and he said 'mummy just to get better'. He is a fighter and we are not giving up."
Patrick has been fighting with the illness for the past two years. He was first diagnosed with the condition when he was just five years old. He had a persistent cough which would not go away and his face would puff out badly.
At first Mairead thought it was just a case of asthma that could be cured with inhalers and antibiotics. But a lump was found and he was diagnosed with the condition on December 3, 2009.
"I just thought or hoped that it might have been asthma," she said. "To be told that your child has cancer. Words cannot describe how devastating that is. It is something no mother should hear."
After eight months of chemotherapy it seemed Patrick had won the battle and was in remission though the family was warned you are only fully in remission after five years. Patrick occasionally had to go to Bristol for more tests and when he returned after one visit Mairead noticed a lump on his neck.
A biopsy was carried out and when the results came back from Bristol on Patrick's seventh birthday - August 18 - Mairead was given the devastating news that the cancer had returned.
"To be told that was just devastating," she said. "You cannot put it into words."
"We have been told that a transplant at Bristol Hospital is the only chance for him to survive."
In preparation for the trip to England the family held a vigil at their local church in Mater Dei in Crumlin last Sunday evening when 400 people turned up.
"We were overwhelmed by the support we got on Sunday," said Mairead. ' We are calling on more people just to keep praying for Patrick. We have people all over praying for him.
"If there is a hell I feel that I am in it because what is happening to my son is the opposite of what heaven is." A special Facebook page Pray for Patrick has been set up which has already 2,270 followers.
Ulster Star
23/12/2011