Special concert to remember Karen and Molly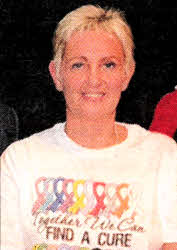 A LISBURN woman who lost both her friend and her mother to cancer is holding another special concert in their memory.
Pauline Adair from Corby Drive, who held a concert last October at the Lagan Valley Island, has this year organised 'Music of the Night' at the same venue on September 30th and featuring Peter Corry.
The evening will be memory of two remarkable women in Pauline's life. Her friend Karen Blythe and mum Molly Dunseath both died from cancer. All proceeds from the concert will aIl go to the Ulster Cancer Foundation.
Pauline's mum Molly (73) passed away in June 22, 2008 and her friend Karen, of Haddington Hill, died on May 4 last year.
Karen (45) battled breast cancer for five years and passed away at the City Hospital just days after she had hosted a coffee morning at her home which raised £2,500 for a local cancer charity. She discovered she had cancer after being persuaded by younger sister Sandra McIlroy to get checked out.
Both women underwent six months of treatment which included gruelling surgery, radiotherapy and chemotherapy. At one stage Karen was given the all clear, however her cancer returned. To help fight it she went to Mexico twice for treatment. Railway Street Presbyterian church, along with friends and family, helped to raise money to send her.
Molly died of uterine cancer which had spread to her bladder two years ago. She was in the hospice for eight weeks to manage her pain and was also at home. Pauline said she was always thankful for the kindness and support that she received from the charity. "I had organised an event last October and raised £3600 in total which went to two charities," said Pauline. "We wanted a big concert and I know that both my mother and Karen enjoyed Peter Corry's music.
"I don't know if this will be an annual thing, but I did enjoy being in the middle of things and organising.
Pauline knew Karen from Railway Street Church and was inspired by how she battled against her cancer.
Del Toro and Pizarrelly have donated a Meal for 2 for the raffle and Peter Corry has donated two tickets for another of his shows.
'Music of the Night' concert will be held at the Lagan Valley Island at 8.00pm on September 30. Tickets are £20 each and can be obtain from the box office at 02892509254.
Ulster Star
02/09/2011