Double victory for top sales assistant Pauline
by JENNY MONROE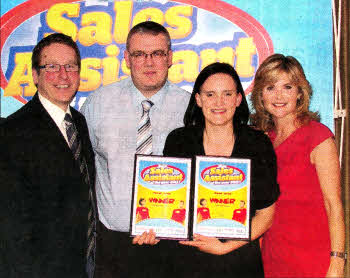 Pictured (L-R): John Clarke, Area Manager at Henderson Retail; Paul Patterson, Store Manager of Spar Lagan Valley; Winner Pauline Irvine; and judge Anthea Turner.
A LOCAL woman is celebrating a double award success after being named Community Hero 2011 and Forecourt sector sales assistant of the year at the Sales Assistant of the Year Awards in London,
The national competition, organised by Convenience Store magazine, celebrates the very best that the UK has to offer in terms of customer service, community interaction, and business achievement. Pauline Irvine from Spar Lagan Valley had to face plenty of tough competition from across the nation, but won over the judges with her positive energy, commitment to the community and willingness to implement new ideas.
Commenting on her win, Pauline said: "I am so thrilled to have won these two awards. I am extremely passionate about my role and keen to instil this enthusiasm in others. It was also my first time out of the country and on a plane....so it was extra special. The team also treated to me a show in the West End.
"I am completely over the moon and these awards mean everything to me. It also reassures me that I am on the right track and to keep doing what I am doing."
Ten months ago Spar in Lagan Valley, where Pauline worked was re-opened following a major expansion, which saw staff numbers rise from five to thirty eight. Pauline went from working the tills to becoming a training rep, where she had to bring 32 new members of staff up to speed on policies and procedures.
She took this mammoth task in her stride and to make inductions less daunting for the new recruits, she even went to the trouble of condensing the store's 146 page guidebook into a much more manageable four page document containing key points. Her dedication made the whole process run as smoothly as possible.
To encourage staff to be as open as possible, Pauline distributes staff suggestion sheets to all employees so that ideas to improve the workplace can be shared and implemented.
As the store's community representative, she organised a charity raffle and a sponsored walk where she dressed up as Batgirl.
But it wasn't all fun and games - in order to bring the event to life, she had to apply to the Parades Commission for permission, the council for a licence to sell raffle tickets and the local paper to ensure maximum press coverage of the event, which raised an impressive £1,000 for the local hospital's stroke unit. Store Manager, Paul Patterson commented: "Pauline has proven herself to be an extremely capable sales assistant who is clearly well loved and appreciated by the local community in Lisburn and the team at the store. Her creative ideas and engaging personality have brought a huge benefit to the store and the wider community."
Ulster Star
25/11/2011