Southern Cross 'committed to residents' of
Pond Park Nursing Home
by MARY MAGEE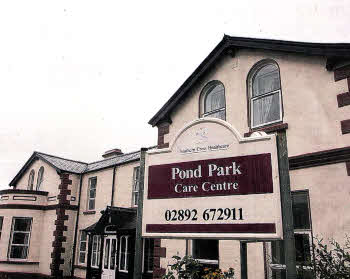 Pond Park Nursing Home.
THE CHIEF Executive of Southern Cross, who own Pond Park Nursing Home, has said quality care will continue to be provided to every resident despite news of the collapse of the company.
It was revealed last week Southern Cross is to shut down after landlords owning all 752 of its care homes across the UK said they wanted to leave the group.
Jamie Buchan said the company is committed to preserving continuity and quality of care to all its 31,000 residents throughout the United Kingdom.
He said since March 14 2011, when the Company announced its intention to seek a financial restructuring of the business, they frequently reaffirmed its ongoing commitment to preserve continuity and quality of care to its residents.
His comments come after families of residents living at the Lisburn home expressed their concern about the future. Heaiteh Minister Edwin Poots has said he has been assured by Southern Cross that it will continue to operate its care homes in NI until new owners take over. Edwin Poots said he would ensure all Southern Cross residents' needs "are met fully".
"We have been assured by Southern Cross that the company will continue to operate its care homes during the forthcoming managed transition of ownership process," he said
Lagan Valley MP Jeffrey Donaldson said he too had been contacted by families and was assured the situation was being closely monitored. He said he was in direct communication with Southern Cross and the Health Trust to ensure residents would not suffer and promised he would keep a close eye on the situation.
"I have been advised arrangements are in place and that residents of the nursing homes will continue to be properly looked after until such times that arrangements can be found for new owners of the home," he said.
In a statement this week Southern Cross said they welcomed an announcement by their landlord NHP.
"The announcement provides further positive clarification on the restructuring process and the Company is encouraged by NHP's continued commitment to the welfare and care of residents," it stated.
"NHP confirmed that at the end of the period of consensual restructuring, it plans to partner with Court Cavendish in the setting up of a new operating company for its homes.
"NHP has also said it will continue to rely on the existing Southern Cross staff who manage its homes together with the back office services delivered by the Company's existing infrastructure in order to ensure continuity of both care and operations."
Mr Buchan, said that the announcement was very positive.
"It should be welcomed by staff, residents and relatives as being in the interests of preserving resident care," he said.
"Together with my team, I look forward to working closely with NHP and Court Cavendish in order to ensure a professional and seamless handover of operations."
Ulster Star
22/07/2011