One woman protest reverses Poundland poppy policy
by JULIE-ANN SPENCE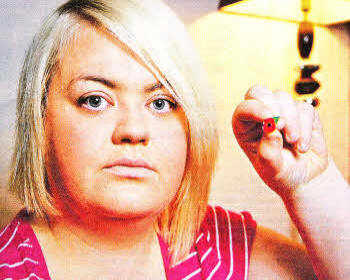 Lyndsay Patterson. US4411-545cd
A LISBURN Poundland employee is now back at the job she loves after a protest by her resulted in the company overturning its uniform policy banning poppies.
Lyndsay Patterson, who has worked at the Lisburn store since it opened two years ago, was upset when she was asked to remove the poppy she was wearing. She refused and left the store.
"I wear a poppy every year and it wouldn't enter my head not to wear it," explained Lyndsay. "I refused to work without my poppy and I felt I had no choice but to leave the premises. I don't regret it in any way."
Lyndsay says she wears her poppy out of respect for family who fought in two world wars and for friends who now serve in Afghanistan. "The least I can do is wear a poppy," she continued. "It is out of respect."
The Lisburn worker was surprised that her protest escalated to become national news but she is pleased that Poundland have now reviewed their policy. "It should not have got to this stage," she said. "I understand there is a dress code and that a uniform shouldn't be plastered with badges but the poppy is sacred and it should be up to the individual if they want to wear it."
Lyndsay, who said she loves working in Lisburn, said she had been overwhelmed by the support of local people. "I think Lisburn has a special connection with the military and people feel very strongly about it here. A lot of people have been coming to speak to me about it and give their backing.
"The support from Lisburn is unreal and I have had backing from England, Scotland and Wales but local people especially have really been behind me."
Poundland announced the change to their uniform policy at the weekend following a public outcry on Facebook and Twitter. When the story first broke the company stood firm, stating: "Poundland is not against staff wearing a poppy; however, members of staff are not allowed to wear one on the shop-floor simply as it does not abide by the uniform rules."
However, by Saturday morning, the company had issued a new statement. Jim McCarthy, CEO at Poundland explained: "We have for some years operated a clear and simple dress code that store colleagues are requested to observe. The policy was designed to prevent issues arising that for whatever reason could upset individuals or communities and to focus our energy on raising money for colleague nominated charities.
"On Friday October 28 a situation in Northern Ireland was brought to the company's attention where a store colleague was politely asked to remove a poppy by our store manager in order to comply with company policy. The store colleague decided to walk out and stated that she would return on Monday next wearing her poppy.
"We have listened to the views of customers and colleagues and have, in light of their feedback, reviewed the policy. We have decided that in the case of the poppy appeal to allow store colleagues to use their own discretion in wearing poppies. This change in policy is consistent with recent reviews of policy made by other leading High street retailers. We apologise for any unintended offence that has been caused.
"Our colleague nominated charities are MacMillan Cancer Care and the Make a Wish Foundation in Republic of Ireland which they actively raise money for and are allowed, if they would like to, wear badges and insignia."
Lagan Valley MLA Paul Givan, who was approached by Lyndsay for help in the matter, has welcomed the decision.
"Poundland seriously underestimated the hurt caused to their employee and the wider community" he said. "Lisburn has a long and proud association with the Army and is the home of the British Army Headquarters in Northern Ireland at Thiepval Barracks.
"The decision by Poundland to change their policy, however belatedly, is to be welcomed and across the United Kingdom those employees who wish to remember the men and women who made the ultimate sacrifice for the freedom we enjoy today will be able show their expression of support."
Thanking fellow Lagan Valley MLA Edwin Poots and party colleagues for their help, Mr Givan added: "Let this be a warning to other organisations that have a policy denying the right to wear the poppy that their actions will be challenged and 'we will remember them'."
julieann.spence@ulsterstar.co.uk
Ulster Star
04/11/2011