£2M EXPANSION FOR HOTEL
PREMIER INN TO GET 30 EXTRA BEDROOMS LESS THAN TWO YEARS AFTER OPENING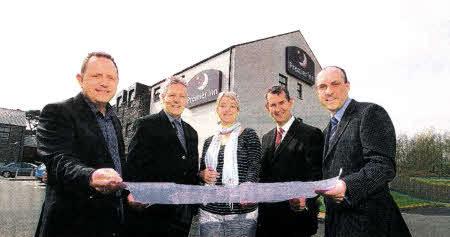 First Minister Peter Robinson and Minister of the Environment Edwin Poots join Andy Orr and Jill Moore of Premier Inn, and Des Taggart of Conway Group to review plans for a £2m extension of Premier Inn Lisburn.
PLANS have been submitted to build a £2m extension of the Premier Inn in Lisburn, less than two years after it opened on the Hillsborough Road.
The proposed new development will see 30 additional bedrooms and create 20 new jobs at the hotel, which was the first to open in the city.
Jill Moore, Manager of Premier Inn Lisburn said the expansion will help meet the growing demand they have seen since opening the hotel in September 2009.
"When we opened we knew that Lisburn had great potential, and this extension is clear recognition of this" she said. "Over the past two years we have welcomed 55,000 visitors. With our reputation for quality and this increased capacity, we look forward to welcoming many more."
Premier Inn Lisburn, which was developed by Magherafelt based Conway Group and operated by the UK's largest hotel group, Whitbread PLC, opened in September 2009. The opening marked a £10m investment by the Conway Group, and saw the creation of 60 full and part time jobs in the City.
`Investment shows commitment to Lisburn'
Des Taggart of Conway Group said: "We are delighted to announce plans for this new extension.
"Lisburn is a fantastic city, and the Premier Inn hotel by the Lagan has proved very popular over the past two years.
This new investment shows our continued commitment to Lisburn, and to developing the City's business and tourism potential. We aim to commence works on the extension upon receipt of planning permission, and hope to create 20 new jobs and bring in additional tourism revenue to the City".
First Minister Peter Robinson and Minister of the Environment Edwin Poots were on hand to review the proposals for the hotel development.
Mr. Poots said: "The opening of Premier Inn marked a new phase in the development of Lisburn as a centre for tourism and commerce.
"The popularity of Lisburn as a destination has continued to grow, and we are delighted to see that Whitbread are ready and willing to grow with it".
Keith Freeman, Head of Premier Inn Northern Ireland said: "We now have six hotels and we have further plans for expansion. Lisburn is a key hotel within our portfolio and despite difficulties in the wider economy we have the confidence to make a further commitment to this site and we look forward to what we hope will be a straightforward planning process and a move to build as soon as possible."
Ulster Star
22/04/2011