Lisburn takes top prize in Pride of Place contest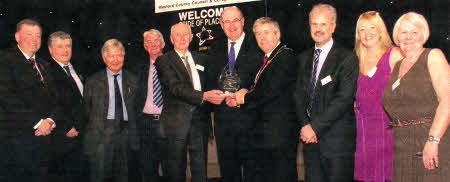 Representatives from Crewe Utd receive their Pride of Place Award from Minister for the Environment Phil Hogan TD, Christopher Moran, Chairman of Co-operation Ireland and Tom Dowling, Chairman of Pride of Place Committee
CREWE United Football Club, Lisburn took top prizes in the annual Co-operation Ireland All-Island Pride of Place Awards announced at the gala ceremony in Gorey, County Wexford recently.
Irish Minister for the Environment, Community and Local Government Phil Hogan TD along with Co-operation Ireland Chairman Christopher Moran and Pride of Place Committee Chairman Tom Dowling presented the group with their award. Winning in Category three 'Sport in the Community' of the Cities Competition, the judges said they saw it as the "extraordinary story of a wonderful club who reach way beyond their football remit to support the local and wider community. Their excellent facility is in existence for over fifty years and is a unique centre. The ability of the club to reach out and assist people and the Warrington connection make this a very special football club indeed."
During the evening, the Minister paid tribute to all the participating groups who work tirelessly to create and promote pride in their cities, towns and villages. The All-Island Pride of Place Competition recognises and celebrates the vital contributions that community partnerships make to society. The focus is on people coming together to shape, change and enjoy all that is good about their local area. It differs from other similar projects in that they specifically recognise the involvement of the local community in all aspects of rural and urban regeneration including, promoting social cohesion, involvement in planning, the promotion of heritage and environmental awareness. The Competition is run by Co-operation Ireland in conjunction with the Pride of Place Steering Committee.
Peter Sheridan Chief Executive of Co-operation Ireland said: "I congratulate all the winners of this year's Pride of Place Awards.
The accolade is recognition of the commitment and hard work groups undertake for the good of their local community. Although there can only be one winner in each category, this Awards Ceremony is an occasion to acknowledge the efforts of all groups, throughout the island, who were nominated by their local authority. In effect getting to this point is success in itself".
Pride of Place Chairman Tom Dowling declared, "I am delighted with the turnout and support all the groups received this evening, both winners and all groups in attendance. It highlights the appreciation and esteem in which community and voluntary organisations are held in throughout the island".
Ulster Star
02/12/2011