local family 'proud' to welcome Prince for tea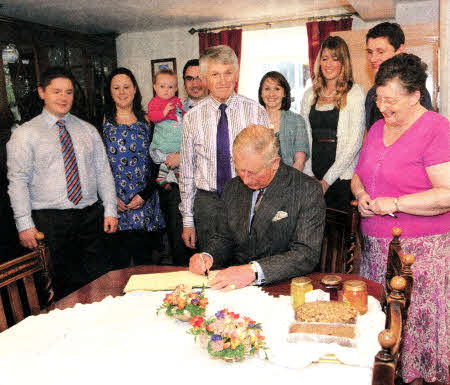 Prince Charles sign's the visitor's book at the Tuft family home, with John and Heather Tuft and their family circle.
IT is not every day that you can welcome a future King to your home for tea, but one local family had that honour recently when they welcomed Prince Charles to their home in Upper Ballinderry.
John Tuft and his family said they were "honoured" to receive a visit from the Prince of Wales - the first in line to the throne - when he visited their family farm on Friday September 9.
Mr Tuft's Bessvale Farm was selected by Moy Park to provide chicken's for the Prince's 'Duchy Originals from Waitrose' range earlier this year and the Prince toured the farm and joined the Tuft family for tea during his two day visit to the Province earlier this month.
John Tuft and his wife Heather, son Jonathan, who works alongside his father on the farm, daughter Susanna and son Andrew welcomed Prince Charles during his visit, which John said was a "very memorable day" for the entire family.
Speaking about the visit, John said: "It was an honour, a Red Letter Day for the family to have Prince Charles visit the farm and have a cup of tea in the house. It was an honour to entertain him.
" John added: "He was very approachable, very easy to talk to and very knowledgeable about farming in general and concerned about farming. He said that we are in danger of losing farmers if there is not enough profit, especially for farms in less favourable areas. He said that farmers are the custodians of the countryside and if farmers weren't there to look after the countryside it would be bad for the environment. The environment is very important to him and he would like to see a cleaner atmosphere.
"When he was talking about his interest in farming he mentioned that he got top clothes fashion designers together and encouraged them to go back to wool, hence farmers are getting more money for wool, he really cares about farming."
Prince Charles spent an hour and a half at the farm, which has been in the Tuft family since the 1700's, where he took time to meet the whole family.
John said: "They were all there to meet the Prince, everyone was very keen to meet him and he had a word for each one of them. Apparently it was his wish that he'd meet all of the family. He kept the chat flowing. I liked how friendly he was and how knowledgeable he is, he wants to see farming progress - he is a champion for farming in the future.
"It was a very memorable day, one we'll remember for the rest of our lives,"
staceylheaney@ulsterstar.co.uk
Ulster Star
23/09/2011