Greenfinch's story re-printed due to demand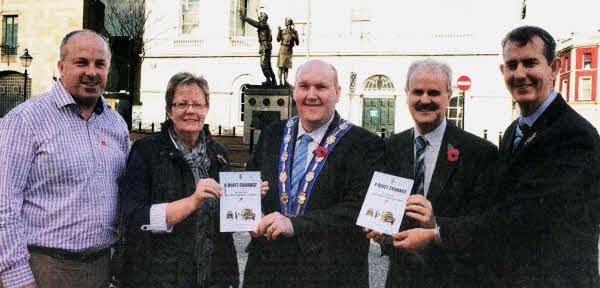 Alderman James Tinsley, Barbara Wilson (Author), Deputy Mayor Alderman William Leathem, Councillor Thomas Beckett and Edwin Poots MLA following the reprint of Barbara's book 'A Quiet Courage, the story of an Ulster Defence Greenfinch'.
FOLLOWING the sell out last year of the first print of 'A Quiet Courage' the author Barbara Wilson has had more copies of the book printed.
The book is a personal reflection of time spent serving with the UDR prior to its amalgamation with the Royal Irish Rangers in 1992 to form the Royal Irish Regiment.
Women known as Greenfinches, although unarmed, were on the front line during the most dangerous years of 'The Troubles' and the making and funny reflection is as unique as the brave women Who served in the ranks of the UDR.
In his foreword to the book, Lagan Valley MP Jeffrey Donaldson said: "I had the privilege of serving with some of these women in my time as a part-time soldier. I can say this, that the Greenfinches were every bit as courageous as the men they served with.
"Their contribution was vital to the effective operation of every patrol, every manoeuvre, .every search, every engagement with the enemy. They were a key part of Regimental life and it is appropriate that their story be told."
Copies of the book are available for £8 from the DUP Office in Lisburn or by contacting 028 92 668001. Arrangements can also be made for books to be sent by post.
Ulster Star
11/11/2011