Fallen soldier to be remembered on war memorial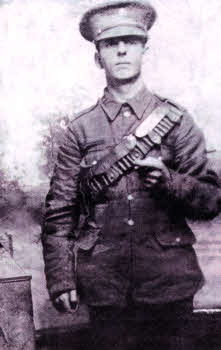 The grave of Rifleman Joseph Chambers
BEFORE Remembrance Day this year a new name will be added to the War Memorial in Lisburn - Dunmurry man Rifleman Joseph Chambers.
His name was added after his great nephew, Aaron Chambers, traced his family history and travelled to France to honour his heroic ancestor.
Aaron spent hours sifting through history books, old photographs and newspapers to gain an insight into the life of Rifleman Joseph Chambers.
His efforts were rewarded when he found his great uncle's grave in Bailleul Communal Cemetery in France.
Joseph Chambers was born in Banbridge in 1889, the son of Joseph and Mary Chambers and brother of Edith, George, Samuel and Albert. The family later moved to the Stewartstown Road in Dunmurry and at the age of 25 Joseph entered active service with the 11th Battalion Royal Irish Rifles (South Antrim 36th Ulster Division) in September 1914.
As he continued in service, he fought at the Battle of the Somme on July 1, 1916. Some time later, Joseph was transferred to the 1st battalion Royal Irish Rifles. On December 21, 1916, during a patrol with his platoon near the Messines Ridge, Belgium, they were fired upon by German troops and Joseph was fatally wounded.
He was taken several miles over the border to France to a little town called Bailleul. There he was treated in a military hospital centre but, sadly, died on December 23, 1916, as a result of the injuries he had sustained.
Aaron explained how he had always been fascinated by stories about his great uncle. "As young children my brothers and sisters and I had been told about our ancestors," he said. "We enjoyed listening to stories relating to our family history.
"One individual was particularly interesting to me - my great uncle Joseph Chambers. I was intrigued to discover more, so I decided to investigate his life for myself.
'As a child I was told that Joseph's name was on the war memorial in Lisburn. However, after my investigations in France I discovered that the 'J Chambers' listed on the war memorial was not Joseph.
"I took this information to the council and, as a result, later this year his name will be engraved onto the war memorial in Lisburn.
"His name is also on the 'Roll of Honour' in Dunmurry Presbyterian Church," he added.
Aaron said he found his visit to the war graves in France to be a very moving experience. "It was very emotional and unbelievable to see the rows and rows of graves," he explained.
"It made me proud to think that someone from my family had laid down his life for his country. As a family we are honoured that my great uncle Joseph Chambers is to be recognrsed and his sacrifice remembered for future generations to come.
"It all stemmed from one story I was told about my great uncle going to war with two of his best friends," Aaron continued. "Sadly he never returned. All that came home was a lock of his hair in a wee jar and buttons from his tunic.
"It has taken a lot of time to carry out the research but I feel satisfied that a missing chapter in our family's history has now been re-written.
"The unfortunate thing is that there are so many fallen soldiers who are not remembered and whose names to not appear on war memorials."
Aaron would like to thank Mr. Pat Geary (Friend's School Lisburn) and Mr Trevor Hall (Irish Linen Centre & Lisburn Museum) for their help with his research.
Ulster Star
02/09/2011