Rock on - Charity night raises funds for cancer charities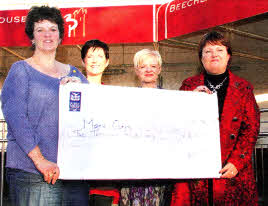 Deborah Johnston (Marie Curie) Jane O'Loughlin, Dorothy Sturgeon and Paula McCabe, organisers of the successful charity night.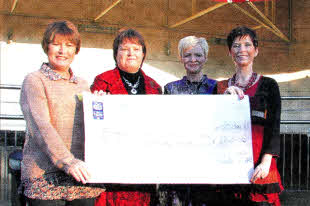 Colleen Shaw (Friends of Cancer Care) with Paula McCabe, Jane O'Loughlin and Dorothy Sturgeon, organisers of the successful charity night.
LOCAL people stepped back three decades for a 'Back to the 80's reunion with Raised on Rock' recently as they raised vital funds for Marie Curie Cancer Care and the Friends of the Cancer Centre.
The charity night, which took place in the Beechlawn Hotel, raised an amazing £4040, with the funds being divided between the charities.
The initial thought for the event came from Hilden woman Jane O'Loughlin. Jane, who now lives in Dublin, came up with the idea with her close friend Paula McCabe.
Paula and her husband Trevor threw themselves into organising the event through Facebook, leading to phenomenal interest from local people.
Paula explained: "Our idea grew from an idea of a Stage Coach (Derriaghy) reunion. We all grew up in the 80's and started thinking about a reunion. We soon realised the interest was greater than what we had expected. So we put our heads together and through Facebook the idea grew, and before we knew it, we had to book not one, but both of the function rooms in the Beechlawn, who donated the rooms free of charge.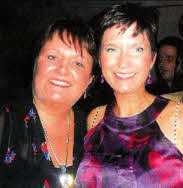 Paula McCabe (left) and Jane Masterson (right) enjoying the night.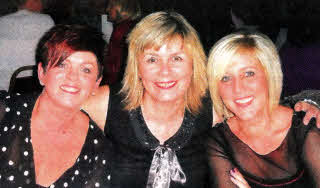 Some of those who attended the charity night.
"We decided we needed to choose a charity we could run the event for, opting for Friends of Cancer Care and Marie Curie as many of us have been affected by cancer in some way or another, including Jane and her sister Hayley. They both realised, after going through radiotherapy and chemotherapy, the importance of support services to patients going through treatment. Once people realised that these were the charities we had chosen, they were more than generous."
Around 370 people attended the night, which included music from DJ Paul Orr, who acted as MC and the rock band Raised on Rock.
The room was decked out with balloons from both charities, as well as blown up electric guitars and 80's posters, in keeping with the theme. A raffle also took place, with a number of businesses donating prizes.
Paula added: "A lot of local businesses were kind enough to donate to our raffle. We had prizes from Bodel's, Penelope's, Marks and Spencer, Shane Bennett, Pretty Mary's, Hope Hair, Tanya Ross Beautician, Fit for Less, Bryan Hynds and we'd like to thank all those who donated.
"We were overwhelmed by the response. Everybody has been so supportive, especially because it was for cancer charities, everybody has been affected by cancer in some way. The atmosphere on the night was electric. People made a real effort, coming from different parts of Ireland, England, even Italy to attend, and we'd like to thank everyone who supported us by either attending or donating prizes. Now we want to try to do it again next year."
stacey.heaney@ulster.star.co.uk
Ulster Star
11/11/2011