Lisburn retains its `roses crown'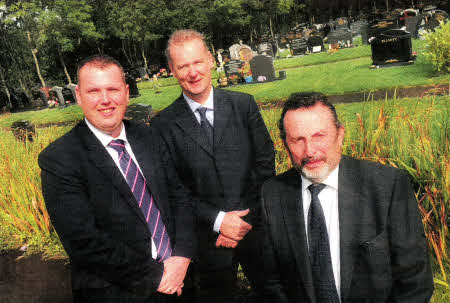 Pictured with Councillor Andrew Ewing, Chairman of the Council's Environmental Services Committee to celebrate the retention of the 'Roses in Towns' award by Lisburn for the third consecutive year are: (I-r) Mr Mark Gregg, Parks Officer, Lisburn City Council and Mr Roy Hanna, Assistant Director of Environmental Services
LISBURN City was recently awarded the 2011 'Roses in Towns' Award by the judging panel from the Translink Ulster in Bloom Awards. This is the third consecutive year in which Lisburn has won this coveted trophy.
In addition to this prestigious floral accolade the Council also won awards for Lisburn in the Large Town category and Hillsborough in the Large Village category.
Councillor Andrew Ewing, Chairman of the Council's Environmental Services Committee, speaking about the Lisburn results and floral displays, said: "It is great news that Lisburn City once again triumphed over stiff competition to win and retain the coveted 'Roses in Towns' Award. Lisburn City Council continues to be committed to providing an attractive floral environment for residents and visitors alike. We believe that a well turned out city speaks 'bunches' about its residents and demonstrates civic pride." He continued: "Each year the Council allocates skilled staff resources to ensure the entire Lisburn City area always looks 'brilliant in bloom'. The continued dedication of Council staff assisted by local communities has enabled the City to have a long tradition of success in the Ulster in Bloom Awards.
"I would like to take this opportunity to thank all those involved in ensuring Lisburn and its surrounding areas are well pruned and a 'floral delight' for the eyes of both residents and visitors. Well done to everyone involved in maintaining the high standards we have set ourselves as a city," he concluded.
Each year Lisburn City continues to experience an increase in the number of tourists visiting and staying in the area; and the Council believes that the eye-catching use of vibrant floral arrangements enhances the ambience and appearance of the City making it a pleasant, attractive environment for visitors.
Ulster Star
30/9/2011