Search begins for this year's Rotary bursary winner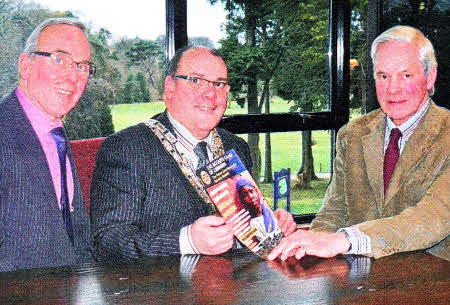 The organiser of the Trevor Guy Memorial Bursary, Stephen Gilbert, right, helps launch this year's award with the help of the secretary of the Rotary Club of Lisburn David Browne (left) and President Trevor Stewart.
THE search has begun for a winner of the Trevor Guy Memorial Bursary which will be awarded to someone in Lisburn to help them as they undertake a project to help a disadvantaged community at home or abroad.
The bursary was set up by the Rotary Club of Lisburn to mark their 50th anniversary in 2004 and since then has helped young recipients travel to to places as far apart as Uganda, Mexico and India.
Last year's winner was Kerry Logan from Anahilt who is currently in France volunteering in a centre for people with disability, supporting them in their daily lives and accompanying them on day trips. She recently sent the Lisburn Rotarians an update, explaining how her 10 month project was going.
Kerry said that in early January she had been to a second seminar with volunteers from all over France,
"The trip exceeded all expectations" she said. "It was a very interesting group of people with 19 different nationalities present.
"During the seminar we had a chance to discuss with members of our organisation and our fellow volunteers the highs and lows of our experiences so far. It was a great chance to give and receive advise from people having similar struggles and similar highlights."
Kerry said she had also been lucky enough to be given the opportunity of taking part in a week-long ski trip in the Swiss Alps!
"In just over two weeks I will be travelling to Switzerland with two colleagues and several residents from Sonnenhof to take part in the trip, I am very excited although also slightly apprehensive as it will be my first skiing experience" she said.
"My time here continues to contain great opportunities as well as many challenges but it truly is an excellent experience."
The organiser of the bursary, Stephen Gilbert, said the work undertaken by the previous winners had been extremely diverse and urged anyone thinking of going on a project to consider entering this year's competition.
He said the standard last year was so high the club had given two further awards, to Andrew McMurray who was travelling to Accra in Ghana to work with children and Holly Gault, who was heading to Uganda to support a new school for children with learning disabilities.
Anyone who is interested in applying or who would like more details can visit www.lisburnrotary.co.uk and click on the Trust Fund button.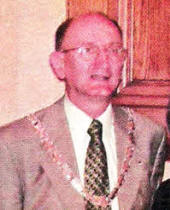 THE award is named in honour of the man whose idea it was, the late Trevor Guy, left.
It was his suggestion that the Rotary Club of Lisburn should set up a Trust Fund and use the proceeds to help young people undertake challenging projects to help disadvantaged communities, and it was his drive and determination that made it happen.
Trevor was one of Lisburn's best known citizens before his death in 2009. For many years before his retirement in 1998 he was the manager of the Northern Bank in Market Square.
He had always been closely involved with the community, being a founder member of President of Lisburn Junior Chamber, a founder member and Treasurer of Stepping Stones and chair of Lisburn
Building Preservation Trust as well as a trustee of the Belfast Association for the Blind. Trevor was secretary of the Rotary Club from 1996-98 and President 2001-2002- He was chair of the Trust Fund and was elected a Paul Harris Fellowship in 2007.
Ulster Star
11/02/2011