Barking Mad!
by STACEY HEANEY
The council threatens man with fine for his unlicensed `dog'
Ruff justice as letter knocks the stuffing out of dog owner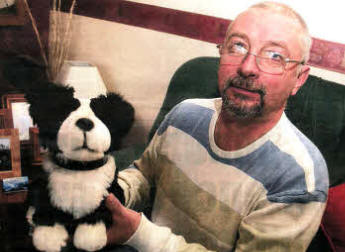 Alex Henderson with his toy dog. US4811-111A0
WHEN local man Alex Henderson got a letter from Lisburn City Council warning him to have his dog licensed or face a possible conviction and fine of £1,000 he could have been forgiven for thinking the world had gone barking.
Because the only dog Alex owns is a stuffed toy one.
He was stunned to receive a letter from the Council last Thursday telling him "it is an offence to keep an unlicensed dog." The letter also said that failure to licence the dog would leave him "liable on conviction to a maximum fine of £1,000."
Alex was so shocked he decided to bring his tail to the Star and duly popped into our office with his 'dog'.
"When I read the letter I just felt disbelief, I had to read it twice. My wife couldn't believe it either," he said.
"This is the only dog I own," he said of the toy. "I've had him about a year, but I didn't know I had to have him licensed. "Does this mean he has to go into kennels now until this is sorted out?" he continued, seeing the funny side of the issue.
"I've no idea why I have been sent this, it's not as if I take him out for walks," he laughed.
The stuffed dog is a replica of Alex's dog from his childhood.
"The only dog I ever had was when I was a child. He was called 'Torchy' after the cartoon in the 50s and was a collie. This one looks just like he did."
Alex said the new 'Torchy' is very well behaved and he didn't realise he would need a dog licence.
"He sits at the side of the fireplace, he likes to watch a bit of TV. I mean, it's not as if he barks in the middle of the night."
Laughing about the form for the licence which accompanied the letter, Alex asked: "What do a I write? Breed of dog: Stuffed!"
When contacted, the Council asked Mr Henderson to contact the Council's Environmental Health Service directly to address the issue.
stacey.heaney@ulsterstar.co.uk
Ulster Star
02/12/2011