Irene off to Dublin for the Run for Life Transplant races
by MARY MAGEE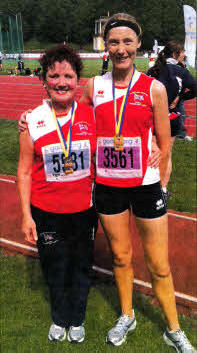 Irene Jeffers and Orla Smyth.
MAGHABERRY woman Irene Jeffers will be keeping it in the family when she takes part in the Irish Kidneys Association 'Run for a Life' event in Dublin on Sunday along with her ten-year-old grandson, Jamie Kirkwood.
Irene (55) who is a kidney recipient trains at the Lisburn Athletic Club along with fellow recipient Orla Smyth from Belfast. Both will take part in the fun run which helps raise donor awareness.
'Run for A Life' coincides with European Day for Organ Donation and Transplantation, held in Geneva the previous day.
Irene, now a mother of two, was just 16 when her health deteriated and was diagnosed with kidney problems. She was rushed into hospital suffering from high blood pressure and a clot on the brain. It was soon discovered she had poor kidneys - one was damaged while the other had not grown properly. At the age of 35 she suffered kidney failure and was put on dialysis until her transplant two years later at Belfast City Hospital.
Delighted at being one of the 'lucky ones' she gave up her 15-a-day smoking habit and decided to take up running and joined the NI Transplant Games team.
"I never had any energy before as I had a full time job was often fighting to find enough
energy to keep going," said Irene.
"So once I had my transplant - I considered myself lucky - I had loads of energy and decided to take up sport.
"I owed it to the person who gave me the kidney - someone from Northern Ireland gave me their daughter's kidney - and I realised what a hard decision that might have been for them. So I decided I would honour that my keeping myself fit and heaitehy and keeping my body functioning well."
Irene joined Lisburn Athletics Club and for the past 14 years attends the annual World Transplant Games.
In this year alone at the World Transplant Games in Sweden she won silver in the 400m and in August at the British Games in Belfast she won five gold medals as well as a trophy for the Best Female Athlete for her age.
Recently she did the Maghaberry fun run and was joined by her daughter and two grandsons Jamie and Ben.
Orla, 32, who trains in Lisburn, had a transplant four years ago completed her first full marathon this year and was the 'Face of the Belfast City Marathon 2011' representing the UK at the World Transplant Games in Sweden in June this year and managed to smash three Transplant Games World Records in the 400m, 800m and 1500m races.
Orla endured ill health from the age of 21 as a result of her chronic kidney condition, but experienced the disappointment of a failed transplant in 2004 when she was just 24 years old. She underwent three and half years of gruelling dialysis treatment before being called for her successful transplant in November 2007.
Passionate about sport and the part it has to play in maintaining a healthy lifestyle after transplantation, Orla said: "My ultimate goal is to do everything I can to stay as healthy as possible to enable me to take part in sport and honour my organ donor. I hope through my involvement in 'Run for a Life' I can help raise organ donor awareness and encourage more people in Northern Ireland to sign up to the Organ Donor Register".
A large number of members of the Irish Transplant Games team, including its junior members, who participated in the World Transplant Games in Gothenburg, Sweden earlier this year, will take part in the Fun Run to play their part in raising organ donor awareness.
Ulster Star
21/10/2011