Family finally get their safe haven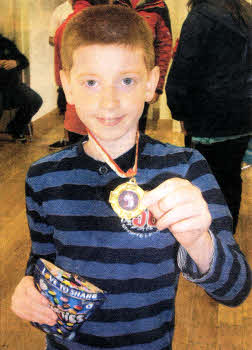 Tiernan Crawford
A GARDEN Force type project helped to give a ten-year-old Crumlin boy a garden that he has always longed for.
The Child Brain Injury Trust had been trying for two years to source support for a renovation project to change Tiernan Crawford's garden into a safe haven but without success.
That is until July when a number of businesses came together and spent five days renovating his garden. Tiernan from the Beeches, suffered a brain injury when he suffered two strokes at the age of three. Due to his anxiety issues and behavioural difficulties, he had a lot of excess energy and no sense of danger so his family longed for a suitable garden for him to play in.
Tiernan, who attends Harberton School, was very active and became frustrated and deeply upset that he was unable to play outdoors in his garden for a number of years as the family's garden backs onto a steep slope and deep ditch.
Sweet Briar Nurseries and Landscaping and a number of other local gardening companies began working with the Child Brain Injury Trust to help remodel the Crawford's garden so that it can be used all year round and meet all of Tiernan's needs.
His parent's are now hopeful that the new garden will help reduce some of Tiernan's anxieties and give him a safe and happy place to play. The whole family are delighted with the garden and describe it as exactly what they wanted.
His mother Catrina said: "Tiernan is absolutely delighted with the garden. It gives him something extra to focus on and you just cannot keep him inside now. He loves the outside and he can just open the door and go out and play.
"It makes such a big difference to his life. It is just this is his wee area now and it means such a lot to us and to him. It would have been a long time before we could have afforded to do this.
"There is still a small section of the garden which needs landscaping and we are looking for a business 'hero' to come and complete the work."
Lisa Turan Chief Executive of the Child Brain Injury Trust said: "We are always delighted when the local community come together to support families. This project had been a uphill struggle for two years. We are so pleased that Tiernan is now able to play in his garden with his family. That's what we are here to do — hope for tomorrow, today."
The companies that helped included Sweet Briar Nurseries and Landscaping, Jordan Concrete, Ian Bamford Haulage, McKinstry Skip hire, Aidrain Patterson, Al Concrete Products, Glenavy Plant Hire and Stoneyford Concrete. The Child Brain Injury Trust would also like to thank Homebase Antrim, Dobbies Garden World and Glenavy Garden Centre for donating plants, soil, seeds and bark and to David from Shrubs and Tubs in Antrim for donating plants and a beautiful garden bench.
If you or someone you know has been affected by childhood acquired brain injury, contact the Child Brain Injury Trust's Helpline on 0845 6014939 or email helpline@cbituk.org or for more information visit www.childbraininjurytrust.org.uk
Ulster Star
23/09/2011