Beat the Banker and raise funds for charity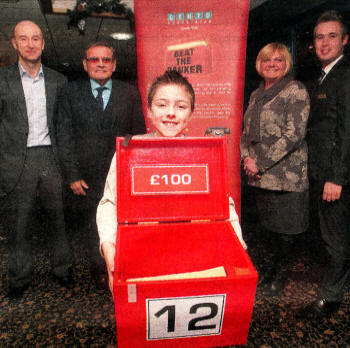 Niall Smyth (Viva Event Management), Samuel Bryans Senior, Corey Bryans, Angela Bryans and Chris Telford of the Beechlawn Hotel
A FUNDRAISING event in memory of a local man who died 11 years ago from encephalitis (an acute inflammation of the brain) at the age of 22, will take place at the end of January.
When Samuel Bryans died he left behind his pregnant wife Caroline who gave birth to their son Corey in July 2000.
Samuel's sister Angela explained: "We were so proud of him as we still had part of our brother with us. Corey organised a sponsored walk with his class to raise funds for the Encephalitis Society earlier this year and that is what give us the idea of running a bigger event."
Angela continued: "Viva event management are running Beat the Banker in the Beechlawn House Hotel Dunmurry, on Saturday January 28, 2012 at 8pm. It is £10 per ticket and you could be picked to play on the night.
"Beat the Banker is like deal or no deal. We are asking local business to sponsor a round at £200 and family and friends to sponsor boxes. Advanced Community Care is sponsoring one round so far and this means that this company will have advertising on the screen on the night.
"We are hoping to sell all 500 tickets as this will allow us to present the Encephalitis Society with £5000."
Ulster Star
30/12/2011