School launches business club to help fund new sports facilities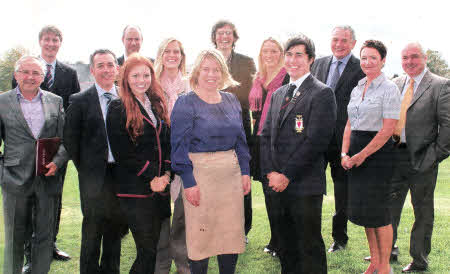 Wallace Principal Mrs. Deborah O'Hare, Bursar Mr Robert Burns and representatives from the ten member companies.
WALLACE High School has launched a new venture with ten Northern Ireland companies which, if successful, will see the school benefit from a cash boost from the ten member companies towards the development of sports' facilities.
"Every time a parent, pupil, member of staff or governor from Wallace High School purchases a product or service from one of our Business Club members, the company in question will donate a percentage of that money back to the school", explained Richard Lee, Sports Development Fundraiser at Wallace.
He said the idea of a loyalty scheme is not new, supermarket chains have been using similar schemes for decades, and many companies have referral schemes in place in return for cash back or discounts.
"In an era when sponsorship and grant funding is becoming increasingly difficult to find, the Business Club satisfies a need both for industry and the School" Mr Lee said.
The first project to be tackled is the construction of two synthetic turf hockey pitches which would replace two gravel hockey pitches at the school that have become increasingly obsolete as part of the modern game.
Currently the school has six boys' teams and twelve girls' teams in the hockey club, transporting players out to several locations in Lisburn and Belfast on a daily basis for practice sessions.
The school believes the two new pitches will not only help develop hockey at the school and in the Lisburn area, but will help them save money in the long run.
Principal Deborah O'Hare said of the scheme: "Schools are faced with significant budgetary constraints and the grants available for sport, to date, have very restrictive eligibility criteria. The Board of Governors in Wallace, through their appointment of a Sports' Fundraiser, Richard Lee, is determined to look at innovate ways to ensure the upkeep and improvement of sporting facilities. The interest shown by local companies in the Business Club has been most encouraging."
Ulster Star
07/10/2011