Three wise men honoured in new school House names
by JENNY MONROE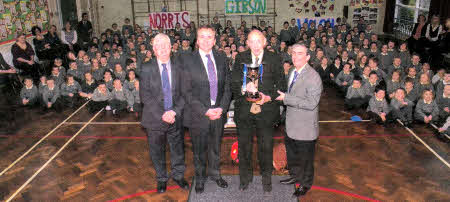 L-R Mr Gibson, Mr Anderson, Mr Norris and Mr Walsh with pupils behind sitting in houses.
FORT Hill Integrated Primary School have introduced a new House system named after three past principals who led the school between them for nearly 42 years. Mr Arthur Norris (1966-1979) Mr Albert Gibson (1979-1991) Mr John Walsh (19932011) were honoured guests at the school's special assembly to launch the House System and the new Principals' Cup. The cup is awarded weekly to the house that has accrued the most points.
Mr Norris taught in the old William Foote School from 1947 and transferred to being Vice Principal of Fort I till Primary when the new building opened in 1965 taking on the mantle of Principal after David Leinster in 1966. Now, at the age of 97, he still takes a great interest in the school and continues to enjoy good health.
Mr Clive Anderson, Fort Hill IPS's newly appointed Principal said: "Organising this assembly has created important memories for both the children and staff. We are all conscious that we stand on the shoulders of those who have served before and who have helped forge Fort Hill into what it is today.
"We are a very welcoming and community based school and many of the children, being now aware of the school's past principals, have had many conversions with parents and grandparents who attended the school under the guidance of Messrs.' Norris, Gibson or Walsh."
Mr Anderson continued: "It was a privilege to receive the Principal's baton from Mr Walsh in September and with an enthusiastic and committed staff and extremely supportive parents, I look forward to building upon past success ensuring a happy learning and caring environment for all Fort Hill's pupils."
Ulster Star
18/11/2011