SERC students go global
by JULIE-ANN SPENCE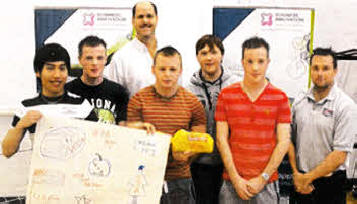 South Eastern Regional College (SERC) Manufacturing Engineering students who won a Global Enterprise Master Class for their enterprising launch strategy of Veda bread. Also pictured is SERC course lecturer Brendan Merrigan.
AS part of Global Enterprise Week, Engineering students from South Eastern Regional College (SERC) Lisburn Campus, took part in a Global Enterprise Master Class and had the opportunity to work with enterprising representatives from a range of local companies.
The master class was organised by the SERC Enterprise Team, which aims to increase students' enterprise awareness and develop employability skills.
The day coincided with a week packed with enterprising activities to celebrate Global Entrepreneurship Week; a worldwide movement of entrepreneurial people with events taking place in over 100 different countries.
During the master class, students were set the challenge of developing a plan for the international launch of a Northern Irish product.
Entrepreneurs Ted Jensen, Big Ted's American Cookies based in Ballyclare; assisted students with
the challenge and encouraged them to have mental courage and take advantage of opportunities using some 'tall' tales from his own experiences of starting his cookie business.
The winning team was presented to Manufacturing Engineering students who developed an international product launch strategy for a 'norn irish' favourite — Veda bread, with a special apple shaped loaf for launch in New York
SERC's Director of Corporate and Economic Development, Thompson Keating, said: "Global Enterprise Week was a great opportunity for students to gain an insight into enterprise opportunities.
"There is a great need to provide opportunities today that help our students pursue their dreams and build the businesses of tomorrow. After all, enterprise is about having great ideas and knowing how to take them forward. It's about being innovative, understanding risk, making things happen and not missing great opportunities. Global Entrepreneurship Week 2011 will kick-start the conversations that are needed to make this happen."
Sharon Browne Entrepreneurship and Business Start-Up Officer at SERC said: "Students embraced the challenge and have created exciting new ideas and entrepreneurial launch strategies. Some ideas included a flash mob for Irish dancing; promoting local bands in Germany with a launch at Oktoberfest; taking SERC's very own Studebt Company 'The Glass Umbrella' to audiences in Europe; and Guinness flavoured crisps to be sold in Spanish holiday resorts.
"It is much more interesting for the students to listen to real life business people and work with them to develop practical business ideas. Yd like to extend my thanks to the local businesses involved who donated their time and expertise to enrich our students studies."
julieann.spence@ulsterstar.co.uk
Ulster Star
30/12/2011