Fundraising event for Sophie exceeds hopes
Three-year-old set to go to Birmingham for life saving heart operation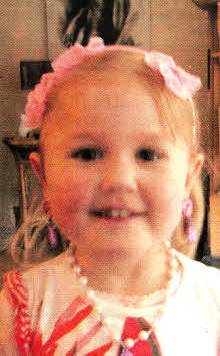 Sophie Stewart
A FUNDRAISING event for three-year-old Sophie Stewart from Glenavy, who is heading to England next month for a life saving heart operation, has raised an amazing £2,500.
The event, at Lily Johnston's on Saturday evening, was 'spectacular' according to her mother Natalie, who said that she was overwhelmed by the support.
"We were well and truly chuffed at the amount," she said. "We had hoped to get £2,000 and we thought that was really pushing it so to get over that was just great. We were delighted.
"Tickets for a corporate box at Old Trafford to see Manchester United v Benfica, raised £400 alone. We were going to raffle the tickets but we thought it best just to sell them.
"It was great to get all that support. The girls from the crèche Sophie attends all came out in support and my daddy runs a local football team, who all came out too. Stephen and I were really overwhelmed by the kindness, the generosity and support."
The money they raised will go to the Red Balloon charity based at Birmingham Children's Hospital where Sophie has already undergone three heart operations.
"People were asking us if we would hold another fundraising night," said Natalie. "We would love to keep raising money but our focus is on Sophie and we would not be able to hold something before we go away. We would not have enough time. My daddy is trying to organise some other golfing event. We would still love to continue raising money and would love to do something else maybe when we return.
"We are hoping that by the time we go over to England we will have raised £3000."
Sophie suffers from the rare congenital heart defect hypoplastic left heart syndrome, in which the left side of the heart is severely underdeveloped, and will go to Birmingham Children's Hospital for surgery on October 24.
She already has had three open heart operations since she was born in 2007 and her parents have now been told the next step beyond this operation will be a transplant.
Sophie's heart defect was discovered before she was born when, during a routine 20 week scan, medical staff at the Royal Victoria Hospital noticed an abnormality in her heart.
When Sophie was born she was taken by a team of doctors to intensive care and by air ambulance to Birmingham Children's Hospital. Sophie underwent a Norwood procedure of open heart surgery and her parents were prepared for the worst as there was only a 60 per cent survival rate.
Miraculously, Sophie got over her first major hurdle and returned to the Royal for a further six weeks. At just six months old she returned to Birmingham for more invasive surgery.
Doctors have now said Sophie will need a fourth heart operation and that if this does not work she will have to have a transplant.
Recently Sophie has shown signs that she now needs more heart surgery. Her colouring is blue and she often suffers from tiredness and breathlessness.
Natalie's father Gerard (Gerry) Goodall, who manages a local football team, held a charity golf day and raised £400.
Ulster Star
23/09/2011