`My wife will never forgive me' - Lisburn soldier's last words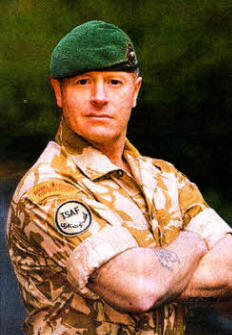 A LISBURN soldier killed by a bomb blast in Afghanistan said moments before the explosion, "if anything goes off now my wife will never forgive me", an inquest heard this week.
On May 21 last year Corporal Stephen Walker, of A Company 40 Commando Royal Marines, was sent to head a section searching for an improvised explosive device near Patrol Base Almas, in Sangin, Helmand province after being told by a local that an IED was in the area.
The inquest at Trowbridge, Wiltshire, heard that Cpl Walker's section were searching a field using Vallon metal detectors when they spotted a hay bale which looked out of place and the wrong colour.
Cpl Walker also discovered a wire which he suspected might have been a command wire for an 1ED.
As the discovery was radioed in to the patrol base, he climbed into an irrigation ditch in a bid to trace the source of the wire when the explosion happened.
Lance Corporal Gary Sinar, who was one of two Vallon operators in Cpl Walker's section, described how he went into the ditch, which was waist-deep in water.
L/Cpl. Sinar, who suffered a perforated ear drum in the blast, said: "Steve went into the irrigation ditch because it was so dense with the trees, he wanted to get a better look where this command wire was going to. "I was on one knee and I was about to stand up and ask Steve if he was getting on all right, if he had seen anything, when the blast went off.
"I remember him saying split seconds before the blast, 'if anything goes off now my wife will never forgive me.
The inquest heard the explosion killed Cpl Walker instantly and seriously injured Marine Ed Hawkins who was evacuated by helicopter. He was later transferred back to the UK for further treatment to his injuries.
An investigation found a second IED at the location which was a pressure pad-operated booby trap device with a low metal content to avoid detection.
David Ridley, coroner for Swindon and Wiltshire, said he believed the bomb that killed Cpl Walker would have been a similar device.
He said that Cpl Walker died of blast injuries caused by an explosion and recorded a verdict of unlawful killing. Speaking to Cpl Walker's widow Leona, he added: "I would like to offer my sincere condolences, he was a brave soldier."
In a statement released after Cpl Walker's death, Mrs. Walker paid tribute to the 42-year-old as a "fantastic dad" and a "perfect soulmate'.
Cpl Walker joined the Royal Navy in 1986 before transferring to the Royal Marines in 1990.
During his 20 years with the Marines, he served in Northern Ireland, southern Turkey and Iraq before being sent to Afghanistan.
His company was responsible for providing security for the people of Sangin during his latest deployment.
Originally from Lisburn, he lived in Exmouth, Devon, with his wife Leona and their daughter Greer.
He also leaves behind a son Samuel.
His widow said: "Steve was passionate, loyal and determined. He enjoyed the role he had in the Marines but he was a family man at heart.
"He was a fantastic dad to Greer and he was the perfect soulmate to me."
She added: "Although this is a very sad time, Steve would want us to be positive - remember the good times, the happy times.
"A lot of people's lives will be deeply affected by Steve's all-too-early departure.
"Life goes on, but it will never be the same for us."
Cpl Walker's commanding officer remembered the soldier - known as Whisky - as one of his best men. Lieutenant Colonel Paul James said: "He was a natural leader who cared passionately for his men; he trained, he operated, he lived and he died at the front. He is a man who will be sorely missed by everyone in 40 Commando."
Sergeant "Dinger" Bell described his fallen comrade as a "true bootneck legend".
He added: "He inspired all those around him and his values, standards and professionalism were second to none.
"He was a charismatic man who had a presence whenever you were near him.
"He never suffered fools gladly, but he strived to bring everyone up to his level and he would never let you down.
"He was never above you, he was never below you; he was always by your side."
Ulster Star
21/01/2011