Stepping out for Stepping Stones
by JENNY MONROE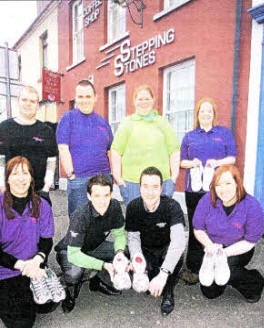 A GROUP of people from Lisburn charity Stepping Stones NI is getting fit and healthy in a bid to raise money.
Staff from the organisation as well as board members and other supporters will be taking to the streets of Belfast on May J for the Marathon and on June 25 for the Lisburn 10K and half marathon.
Business Development Manager Cara Cash explained: "We need to fundraise in order to help sustain the training and employment services for people with. learning disabilities and learning difficulties. New Year resolutions and high hopes of getting fit provided the motivation for the Stepping Stones team so we thought we could kill two birds with one stone, get fit and raise money for the charity at the same time."
The Charity will be entering relay teams for the event and would welcome any individual runners who would like to fundraise to help the make a difference to the lives of a person with learning disability.
Cara continued: We realise that entering a marathon is a commitment that goes beyond putting change in a fundraising box, but we intend to support those taking part as much as possible.
"We are currently working on training plans that people can follow to make sure they are prepared as much as possible, these will start to be uploaded to our website. We will also be putting up helpful hints and tips for running/walking a leg of the marathon.
"One of the reasons that the charity decided to go for the marathon as a fundraising activity is that it brings people together and makes a difference, and is fun. As a Charity Stepping Stones NI is all about innovative ideas and trying new things, but most importantly making a difference to the lives of young adults with a learning disability and learning difficulty."
If you would like to run and fundraise for Stepping Stones NI please contact Cara Cash at Stepping Stones NI 02892 667124 or email Cara.Cash@stepping-stones.org.uk
Ulster Star
04/02/2011