The age of miracles hasn't ended'
Donations increase `twentyfold' following church robbery
by STACEY HEANEY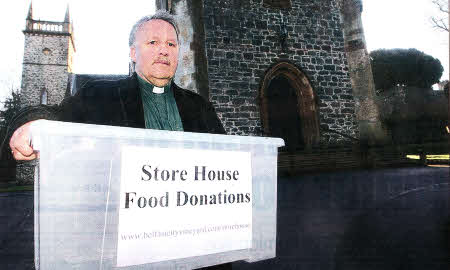 Reverend Mike Dornan pictured after donations of food collected for people in need this Christmas were stolen from the church. It happened during a sermon about food poverty at St Malachy's in Hillsborough on Sunday. US4711.118A0
THE minister of the Hillsborough church where thieves stole food collected for needy families in the middle of Sunday service has said there has been a response of 'Biblical proportions'.
The congregation at St Malachy's were left stunned last Sunday as six boxes of donated food intended for the East Belfast Mission were stolen after a car drove straight up to the main door, and its occupants walked in and took the charity bags. The car then sped away down the church drive and on to the main road in the centre of the village.
Ironically, the theft took place whilst parishioners were listening to a service on food poverty.
But the Rev. Mike Dornan declared 'the age of miracles has not ended' as contributions to replace the stolen food have flooded in from across Northern Ireland and as far away as England and Scotland.
Churches and businesses in the Lisburn area have stepped in to contribute, wile Lisburn Mayor Brian Heading paid a visit to the Church earlier this week to make a donation from the Mayor's Allowance.
Rev. Dornan said: "The initial figures are that we have donations in the region of £1,500. I haven't spoken to the East Belfast Mission so I'm not sure if they have also had people donating directly through their website, but certainly as far as the response is concerned it has been fantastic. A Parish Priest from Tyrone came up to visit us to donate, we've had people from all over Northern Ireland, people from England and Scotland, many ex-pats who have heard about this on the news; it has been a great response.
"From something so bad, God has turned it to good. We've had a fifteen/twentyfold return on what was taken, we will feed many more people and this is a great blessing to the folk in East Belfast. The age of miracles has not ended," Rev. Dornan declared.
"It is like the feeding of the five thousand, from a small amount there was such a great return; it is a Biblical parable."
Rev. Dornan was keen to thank everyone who bas given so generously. He said: "It is nice that Christians from across the denomination divide have united. I would like to thank people for their generosity, everyone who bas contacted us and helped us, we truly appreciate it.
"The Lord works in mysterious ways," Rev. Dornan added.
It was around 12.15pm as the Bishop of Egypt and North Africa delivered a service on food poverty that the theft occurred.
"The Church Warden came up and said they needed to make an announcement, when I heard I was dumbstruck" Rev Dornan said. "I was literally speechless, I couldn't believe it. The whole church went silent trying to process it. The congregation prayed for those who removed that food. We prayed for God's blessing for them and hopefully they will be motivated to do some good."
St Malachy's have been providing Christmas hampers to the East Belfast Mission for six years. Mark Houston, Director of the East Belfast Mission said the Hillsborough church was 'one of our strongest and best, most generous donors'.
"They help not just through donations, but they help to deliver the items, they were due to help pack the boxes this Saturday into proper hampers" he said. "I was just flabbergasted when I heard the news. I suppose we should expect anything nowadays, but you think the Church, Church services and Church collections should be still sacred."
Derek Gallop, Secretary to the Select Vestry at Hillsborough Parish Church, said: "The immediate reaction was one of shock and despair that something like this could happen.
"The church has a long history of generous giving, particularly at this time of year, and parishioners are inevitably upset that its sanctity has been violated in this way.
"In keeping with other churches, quite a lot is taken on trust — especially at Christmas — and most people understand and respect that charitable donations may be left inside the church for distribution in due course."
A PSNI spokesperson has confirmed an arrest has been made in connection with the incident.
They said officers from the Hillsborough Neighbourhood Policing Team arrested a 45year-old woman on Wednesday. The woman was detained at an address in Craigavon. She has been released on conditional bail to return for further questioning at a later date.
* If you would like to donate to the East Belfast Mission this Christmas, please telephone the Mission on 028 9045 8560 or visit the website at www.ebm.org-uk for further information.
stacey.heaney@ulsterstar.co.uk
Ulster Star
25/11/2011