Campaign boost as council throws weight behind petition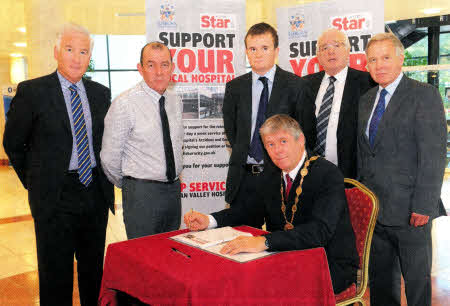 Launching the petition to show support for a 24 hour service at Lagan Valley Hospital Accident and Emergency Department are the Council's cross-party delegation. Pictured are p-r) Mr Adrian Donaldson, Director of Corporate Services; Councillor Arder Carson, SF; Councillor Stephen Martin, Chairman of the Corporate Services Committee, Alliance; Alderman Allan Ewart, DUP and Councillor Brian Bloomfield, UUP. Seated is the Mayor, Councillor Brian Heading, SDLP.

THE campaign to save services at the Lagan Valley Hospital has stepped up another notch this week with Lisburn City Council calling on residents to sign the Petition calling for the reinstatement of a 24 hour service at the Accident and Emergency Department.
The petition, which is now available at Council facilities and council website (www.lisburncity.gov.uk) as well as through the Ulster Star, is part of a cross party campaign supporting local services for local people at the hospital.
A cross party delegation has already met with the Health Minister, Edwin Poots and meetings with the South Eastern Health and Social Care Trust are continuing to try and find a solution to the staff shortages being experienced right across the UK. The Mayor, Councillor Brian Heading, said the support for the Lagan Valley Hospital was unanimous and that it was vital that the community showed its support for the future of the local hospital.
The Lagan Valley Hospital belongs to each and every one of us and as a community we need to show our support. Any one of us may need to use the A&E at some time or another as will our families, friends and neighbours. There are clearly difficulties within the system at the minute and we acknowledge that those involved are working hard to find a solution.
As a Community we need to ensure that the Lagan Valley Hospital remains high on the agenda and the reinstatement of services at the hospital forms part of any agreed solution."
Petitions will be available at all Council facilities and online at www.lisburncity.gov.uk
Chairman of the Corporate Services Committee, Councillor Stephen Martin said: "Reduction in opening hours at the Accident and Emergency Department will have a profound effect not only for the people of Lisburn who no longer have access to local emergency provision during the night but also to people outside the area who already experience unacceptably long waiting times at neighbouring hospitals.
"I urge everybody to show their support for the future of the Lagan Valley Hospital by signing this Petition."
---
Grandmother is full of praise for Lagan Valley Hospital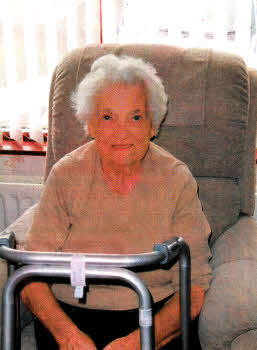 Isabella Berry
A GRANDMOTHER visiting Hillsborough from her home in Canada has praised the staff at Lagan Valley Hospital for the treatment she received after a fall.
Isabella Berry, who is originally from Hillsborough, has lived in Canada for the last 66 years but pays a visit home every year to visit her sister.
Due to celebrate her 89th birthday next month, Mrs. Berry suffered a fall four weeks ago and was rushed by ambulance to the Royal Victoria Hospital, where she underwent surgery on her leg before returning to a ward at the Lagan Valley Hospital.
Mrs. Berry, who served with the Royal Navy during World War Two, said she was more than impressed with the treatment she received and the care from local doctors and nurses and is encouraging everyone to support the local hospital.
"Everyone was just great," she said. The staff were really great, they were all lovely to me."
Mrs Berry said she would not have received the same level of care if she had fallen in Canada.
"There is no follow up in Canada like you get here,' she explained. "They send you home and you just have to look after yourself.
"I think the Lagan Valley is a really good hospital," she continued. "Why would you go to Belfast when you can go there? You get good service and they all have a lovely way about them."
If, like Mrs. Berry, you have reason to be grateful to the Lagan Valley Hospital, share your story by contacting Julie-Ann Spence at the Ulster Star, 12A Bow Street, Lisburn, BT28 1BN or email julieann.spence@ulsterstar.co.uk.
Ulster Star
30/09/2011