Overwhelming response to hospital campaign
THERE has been an incredible response to the petition in support of the Lagan Valley Hospital.
The Star office has been overwhelmed with thousands of people already registering their support for keeping services at our local hospital.
Petitions have been received from all over the area, from Crumlin to Dunmurry, Hillsborough to Dromara and Dromore.
One petition was received filled with signatures from residents at Blaris Fold and over 100 signatures were added to petitions from staff at O'Kane Food Service. It is also clear that local people have been encouraging neighbours to support the campaign, with petitions being received from streets throughout the city.

It is vital that the momentum of the campaign is continued and that the weight of public opinion is brought to bear on the decision makers.
You can support the campaign by filling out the petition included in the Star, it can also be photocopied or you can get a copy by logging onto the Lisburn City Council website www.lisburncity.gov.uk and voting in the online poll.
You can also share your opinions by writing to the Ulster Star at 12A Bow Street, Lisburn, BT28 1BN or emailing news@ulsterstar.co.uk.
---
Seven hour trolley wait at Royal Victoria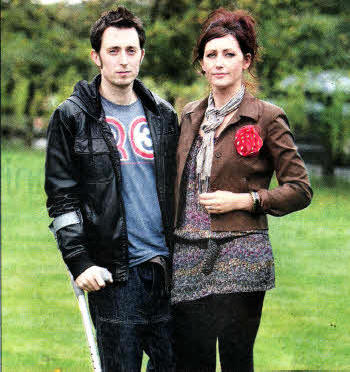 Chanel McKinstry and husband Darren who was knocked off his bike and taken to the Royal Victoria Hospital in Belfast. US4011-124A0
A LOCAL man, who is lucky to be alive after being knocked off his bicycle, was left on a trolley in the Royal Victoria Hospital for seven hours after a doctor 'forgot' about him.
Darren McKinstry, who normally cycles to work along the towpath, decided to travel to work via the Malone Road instead and was struck by a car at a pedestrian crossing.
The driver of the car called for an ambulance after Darren was flung into the air and hit a set of traffic lights.
"After ten minutes or so he was able to sit up so they said they wouldn't send an ambulance because it mustn't have been very serious," said Chanel, Darren's shocked wife. "However, they received so many calls from people who had witnessed the accident that they did eventually send an ambulance and the staff were amazing.
"They said they could not believe that he was still alive because his bike was in pieces. He was taken to the Royal Victoria at about 9.15am and we were very unhappy with the service."
Darren and Chanel were shocked with the apparent disorganisation of the Belfast hospital and said they wouldn't go back to the Royal again. "Darren was made to hop through A&E on one foot until he couldn't do it anymore. He asked for crutches but was told they didn't have any. He had one scan on his leg and then lay on a trolley for seven hours waiting for the results. The doctor then came back and apologised, saying she had forgotten about him. We were told the scan was inconclusive, to take painkillers and come back in a few weeks time."
Darren was sent home and ten days later, in the early hours of the morning, he woke with tremors, a fever and was in excruciating pain. "I didn't know what to do," continued Chanel. "I called the out of hours at the Lagan Valley and the doctor was very helpful. He said it was probably an infection, advised what tablets to take and told us to wait until the A&E at Lagan Valley opened at 9am.
"We didn't want to wait but we also didn't want to go back to the Royal. At 9am Darren's father Gordon took him to the Lagan Valley and he was so well treated.
"It was so well organised. I couldn't believe the difference between it and the Royal. The
staff all worked as a team and the doctor was really thorough and informative. We felt we were being taken care of."
Chanel and Darren are now determined to help with the campaign to save 24 hour
services at the Lagan Valley Hospital. "It really brought home to us the importance of 24 hour access at the A&E," she added.
julieann.spence@ulsterstar.co.uk
Ulster Star
07/10/2011