Take the test - it may save your life'
FORMER MAYORESS TELLS HOW SHE FOUND SHE HAD DIABETES
by JULIE-ANN SPENCE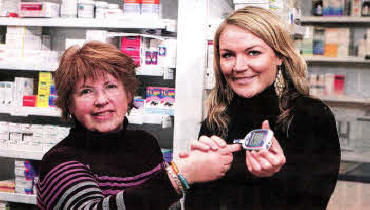 Demonstrating the test is Ellenor Calvert from Lisburn whose test in January 2010 detected she had diabetes along with Gordons Pharmacist Aine McManus.
FORMER Mayoress Ellenor Calvert has revealed she discovered she was diabetic after she used the Gordons Chemists health check scheme in January 2010.
Mrs Calvert had the test after seeing a poster in her local Gordons Chemists. Her test showed high blood glucose levels and she was advised by the pharmacist to make a second appointment to have it checked again.
"I would applaud the staff at Gordons Chemists, who made me feel at ease and accommodated me for a test at a time which suited," she said.
However, following the health check in January 2010, Ellenor initially didn't follow the advice from pharmacist Aine McManus to see her GP and it was a few months later when attending the Balmoral Show that she decided to have her blood glucose level checked again by Gordons Chemists who were exhibiting at the show.
"My sugar was high again but I'd just been on a flight from America so I blamed it on the travelling," continued Mrs. Calvert. "I think I was in denial a bit - always finding excuses. However, with advice from Gordons I made an appointment with the practice nurse and was told I had diabetes. It was really because of the Gordons staff encouragement that I finally faced up to the problem and dealt with it."
She went on to say: "I had had symptoms for a while but they had not been picked up before and if it had not been for this simple test I may never have discovered that I was diabetic. I now eat a balanced diet. I have porridge early, carbs at lunchtime and I can't really eat after 7pm. I eat little portions more often and have lots of fruit and vegetables. I also have to take one tablet every day. I feel like a different person.
"The Gordons team really encouraged me to address this issue and I am happy they did. I have recommended them to others too as it's a very simple and quick test.
"The test is invaluable and it is really a wonderful service for the community — I would urge everyone to avail of it. You never know it could save your life," she concluded.
julieann.spence@ulsterstar.co.uk
Ulster Star
07/012011