Tandem cycling project gets support from Coca Cola thank you fund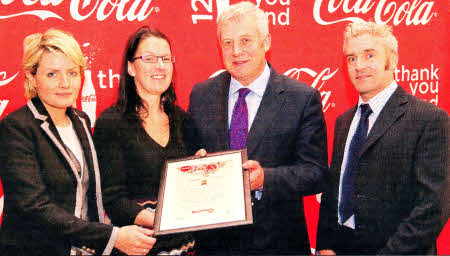 L-R: Maire Campbell, Coca-Cola Hellenlc Ireland, Claire Patience, RNIB, Minister Fergus 0'Dowd and James Laverty, NICVA. Lisburn in Focus was one of only three organisations from NI who were awarded a Coca Cola 125 Years Celebration fund grant.
THE Royal National Institute of Blind People has achieved success in 'Coca-Cola's 125 Years Thank You Fund' after £4,350 was awarded to support tandem cycling for blind and partially sighted people in Lisburn.
The Lisburn in Focus project, led by RNIB NI in partnership with Guide Dogs, Lisburn City Council and Lisburn City Centre Management, held Ireland's first tandem only cycle event It Takes Two to Tandem' at the Maze racecourse in June 2011. This new funding will allow local blind and partially sighted people to cycle regularly in preparation for the event next year.
Fifteen other organisations from Northern Ireland and the Republic also received awards through the fund, which was launched in May to mark Coca-Cola's 125th birthday celebrations in Ireland.
Jenny Heaphy, Coca-Cola Ireland, said: "We received over 600 applications from all over the island of Ireland. The applicants proposed some very innovative projects and schemes which could have a really positive impact on their communities. We would like to thank everyone for taking the time to enter and for showing us what great work is happening in communities every day."
The 600 entries were narrowed down to a shortlist of 45 which then went to the public vote during September. During that period, the judging panel also came together to vote. Following the outcome of both the judges and the public vote the winning 15 groups were decided upon.
The judging panel was made up of a variety of community leaders who were selected because of their proven track-record in making positive contributions to society including Dame Mary Peters, Past Olympian and James Laverty, NICVA.
The Lisburn in Focus team would like to sincerely thank all those who voted online for their application.
For further information regarding the Lisburn tandem group contact the Lisburn in Focus team on 9260 0388 or email lisburninfocus@rnib.org.uk
Ulster Star
18/11/2011