Autism charity has it in the bag at Tesco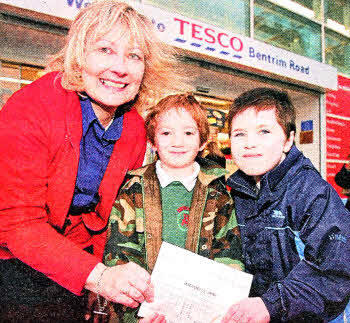 Anne Broome, community champion at Tesco, presents a cheque to Paul Barnes and Thomas McCinton, from the Lisburn branch of Autism NI, which was raised during a bag pack at the Bentrim Road store. US4811-530cd
TESCO in Lisburn was the venue for a bag packing fund raising event for the local branch of AutismNl, which raised a total of £1,066.
Lisburn Branch secretary Paula McClinton said On behalf of my son Thomas and all the other children and adults who live with Autism, I would like to thank the people of Lisburn for their generosity."
Paula continued: "I would also like to thank Anne Broome and the staff of Tesco who allowed us to carry out our bag pack. Not only did Tesco help us raise much needed funds but hosting our charity also helped raise awareness of the invisible and often misunderstood disability that is Autism.
"I would like to thank all the Branch members and all volunteers who came out and packed bags on the day. Local signage business 4Corners also supported us by providing stickers free of charge and we are grateful to Colin Smith for his generosity".
Tesco's Anne Broome said: "We are delighted to help raise funds for the local children and aduites of the Lisburn branch of Autism NI who are affected by Autism."
Autism NI works to provide a parent support network, training and education courses, and continued lobbying under the new NI Autism Act 2011.
The Lisburn Branch meets at Trinity Community Venue, Knockmore Road on the second Monday of every month. The next meeting is on 12 December at 7.30 pm and any parents/carers and professionals are welcome. This meeting will have a Christmas theme and for a small donation will allow parents to relax and have some fun and make and take home an item of craft under the tutelage of an art teacher.
A cup of tea and cupcakes made by Denise Leckey of Little Star cakes will ensure a delicious break during the craft making.
The usual Book Library and Sensory library will also be available. The new year meeting will be held on 9 January 2012.
Ulster Star
09/12/2011