Planners give go ahead for expansion at Tesco store
DECISION MADE `IN THE OVERALL PUBLIC INTEREST'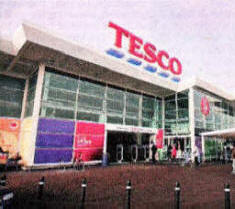 PLANNERS have given the final go ahead for an expansion of the Tesco store at Bentrim Road in Lisburn, saying they have made the decision in the overall public interest'.
In a notice in this week's Ulster Star, the Planning Service says it has decided 'after detailed consideration' to approve the 50% extension to the store, extra parking and increased landscaping.
The decision is in spite of a five-year battle by residents opposed to the plan who say it will bring increased noise and traffic and also have a detrimental effect on the peaceful enjoyment of their homes.
Last August the Planning Service Management Board recommended permission for the scheme, but it is only this week an advertisement has appeared giving the final decision and saying that in view of the volume of correspondence received, it is not feasible to notify all written representations individually'.
It continues: "In arriving at this decision the Department took into account all relevant planning matters including planning policies, the development plan, relevant material factors and representations submitted from all interested parties.
The issues raised in all representations submitted were carefully considered as part of the balanced judgement in reaching this decision in the overall public interest."
The approval comes with a series of conditions and the Planning Service says that while it doesn't 'actively monitor' developments, it is committed to investigate any alleged breaches of planning control brought to its attention.
At a special meeting of Lisburn Council's planning committee last August Benson Street Residents' Group, which has 20 members and the support of around 1000 people in the bordering residential area, made a last ditch plea to Tesco to withdraw their plans in light of the hurt it will cause local people.
However a spokesperson for Tesco said at that time they were committed to investing in Lisburn and the extension would create around 80 new jobs and bring the number of people employed by Tesco in Lisburn to around 600.
"We understand the concerns of the residents and following on-going consultation with them and local political representatives, have made extensive changes to our original planning application of five years ago. For example removing a proposed decked car park at the front of the store and reviewing the proposed size" she said.
Over many years our application has gone through the legitimate planning process and we understand that, as is usual for an application of this size and nature, it will be subject of a number of tough conditions which we will be required to undertake.
"In addition to extra retail employment, jobs will also be created within the construction sector, good news for an industry which has been particularly hard-hit in recent times. Our extension will also generate an added income expenditure totalling more than £6.5 million, which could be spent in the local economy, as well as significant rates of more than £112 million for the Council," she concluded.
Ulster Star
04/02/2011
Ulster Star
/2011