The boys of Lisburn Tech who helped defeat the Luftwaffe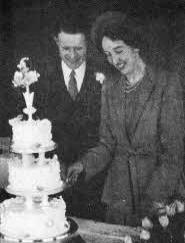 Joe and Edna Kennedy pictured on their wedding day on 25th March 1948.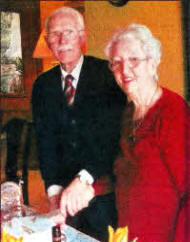 Joe and Edna Kennedy celebrating their Diamond Wedding Anniversary in March 2008.
IN the dark days of the Second World War amid fears over the bombing of Belfast shipyard by the Luftwaffe bombers, production of some of Harland and Wolff components was transferred to believe it or not - Lisburn Technical College.
From 1940 to 1945 Joe Kennedy, now in his 90th year and then a pupil at the Tech, was a member of a 'War Effort Team based in the College workshop where he was involved in the manufacture of these components in addition to parts for Hugh J Scotts and anti-aircraft gun parts for the Harry Ferguson factory at Moira.
Born in October 1922, Joe was the youngest of a family of six, three boys and three girls.
Now the sole surviving member of the family, he was brought up on a farm at Brookfield and instead of becoming a farmer, Joe chose a mechanical engineering career.
In 1937 he became a student at Lisburn Technical College. When war broke out, the principal Cecil Webb offered to use the machine shop for the war effort and Joe was one of seven boys selected for the project.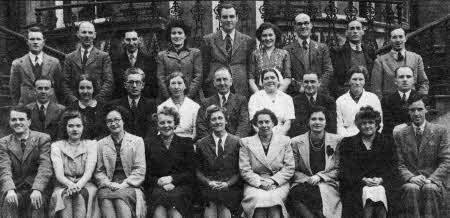 Lisburn Technical College staff (1948). Photo supplied by Joe Kennedy (left in back row).
After the war he was asked to stay on at the school as a Maintenance Technician during which time he completed his further education at evening classes.
Joe recalls that one of his first jobs as a Technician was motorising the workshop machines and doing away the old overhead line shaft. When the new workshops were built on A Floor', he had the responsibility for the fitting out of the equipment.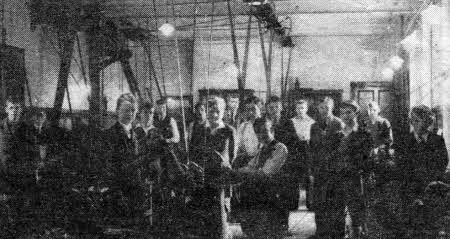 Metalwork class 1938. Included in the photo is sixteen year old student Joe Kennedy (fourth from right). After Joe's appointment as Maintenance Technician following the war, one of his flrst jobs was motorising the workshop machines and doing away the old overhead line shaft which can be seen in the background .
A few years after his marriage to Edna Elkin in March 1948, Joe joined the full-time teaching staff.
He retired in 1982 and has the remarkable achievement of 32 years teaching service at Lisburn Technical College without missing a single day.
Joe had portraits of the five principals that he served under from 1937 to 1982 - Cecil Webb, Dr Raymond Fox, William Waring, David Wright and John McDowell, mounted in frames which he made and presented to the college in June 1994.
Joe said: "I must say that I enjoyed my long experience at the College with many good friends and well-behaved students." Quakers Joe and his wife Edna regularly attend Friends Meeting House, Lisburn. They have a family of four -one boy and three girls.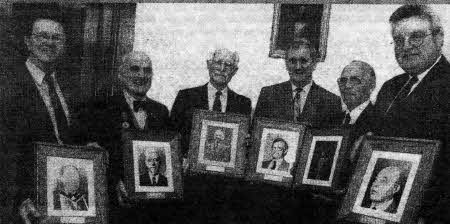 Joe Kennedy (thlrd from left) who made frames for and presented portraits of former principals, the first five of which he served under from 1937-1982. At the presentation in June 1994 are L to R: Dr John Williams (Vice chairman board of governors), Alderman Samuel Semple (Chairman), John Montgomery (Vice-principal), Griffith Black (Governor) and Alister McReynolds (Principal).
Ulster Star
11/11/2011